Posted by Intuition Girl
QUESTION # 1
Dear Joan Marie,
I am a spiritual person and enjoy reading and listening to pretty much everything to make my life better and keep me on my charted path. I believe in the law of Attraction and affirmations – although, I 'm having a difficult time understanding the time it takes to get results. It seems that one negative thought gets faster results than 1000 positive ones. Why is this? I'll try and catch a negative thought and change it.

Also, the saying – "I can't afford that" this is a mind virus, but, when I look at my bank account how do I overlook the lack of money? Would you suggest to spend over your income because you know and believe that the money will come?
I don't want to be foolish and irresponsible – I'm asking this sincerely and respectfully.
E. Campbell
Answer
Dear E. Campbell:
I honor you for your desire and willingness to grow and learn but please understand that there is a big difference between the process of seeking knowledge in information and living the process. Once you begin to live a life of unquestioning trust in the process of the Laws of Universal Flow, your life can change dramatically and things can happen very quickly. The truth is you must deal with all your emotional blocks and beliefs tied in with money—your fears, worthiness and other emotional issues that are preventing your flow. If time is elapsing and your desires are not being met than you must look at your own inner self. Do you actually believe you can create that which you are seeking? Are you prepared for the change coming into your life? In order to attract positive flow in your life- your internal vibration – mind-body and soul must be in alignment. In my various programs, I teach this process.
Every thought and action together with our behavior patterns is brought about through our habits and our beliefs. We can cultivate good habits as easily as we create destructive habits—it is a choice. Being conscious of where you are placing your energy and disciplining your mind are vital to your success. The depth of the knowingness in your mind, body and spirit will deepen as your emotional blocks are released and your feelings of self-worth and value improve.

It sounds as though you are fighting a war in your mind – it is between your authentic self who wants to awaken and become more whole and your ego self who likes you just the way you are. For your true self to win this battle, you must be the leader in your life and be the one voice in charge. I often say to all negative thoughts –"that is a lie- the truth is this." It is up to you to state your truth and own it.
Attraction is not just about positive thoughts- it is about owning your thoughts- knowing without a grain of doubt that they are true and living them. I hope all this helps. I could go on for pages with all of this but this is a great start for you. The most important suggestion I can offer you is: "Never give up." Continue on your quest and allow your journey to be a fun-filled adventure and a gift.
Many Blessings,
Joan Marie the Gift, Intuition Girl
P.S. Discover the abundance awaiting you in 2010 when you commit yourself to learn how to create real, positive transformation in your life in my 2010 Mastermind Platinum Program — Hurry, space is limited! Visit http://www.thegiftwithjoanmarie.com/preview today!
Posted by Intuition Girl
Question 2:
Dear Joan Marie: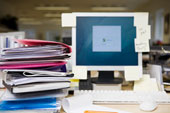 I love receiving your newsletters and Monday morning inspiration. You are like a breath of fresh air that I need to breathe in on a daily basis. My question to you is that I procrastinate often. I know that I need to get certain things done but I continually put them off. I do it with bills, my business; and I constantly create turmoil within myself. Can you help me understand why I do this? Thank you so much for your time.
Sincerely,
Samantha Harding
Answer:
Dear Samantha:
Procrastination is often an issue wrapped around lack of self worth. It sounds as if you are creating an endless cycle for yourself to keep you in an emotional state of conflict. The key for you is to heal your emotional state. I suggest that you daily begin to talk to yourself and share with your Inner Soul, Your Authentic Self, all the good things that you are accomplishing. List several things that you are contributing towards that are blessings in your life.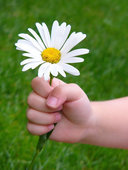 Leadership is a common thread that weaves in the lives of all of us. How we envision our talents and skills determines how we project ourselves out into the world. I believe it is about you being a leader in your life. When are you going to step up and say I am worth it? You need to re-build your self-image and feel confident in your abilities. Trust your decisions and choices and know that structured time will help you move past your hesitation. Unworthiness is a learned condition that is no longer serving you. You need to create new habits within yourself and for yourself on a daily consistent basis in order for you to realize your true value.
Many Blessings,
Posted by Intuition Girl
Question  1:
Dear Joan Marie: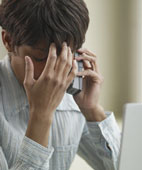 I don't know where to start; I am with a good man and I love him—the thing is, that we also live with his family, and never have any space or time for us and it is getting to me. I have tried to talk to him but he will not move and get us our own place to live. I have also tried to think of it as a good thing and tried to do and say all the right things but I don't feel like it is my home. I feel like a prisoner, I stay in my room and I don't eat all day until he comes home or I go to work and eat there. Maybe you could give me some words of wisdom to get me through this mess.
From,
Cynthia
Answer:
Dear Cynthia:
I understand that you are in a tough situation right now. My feeling is you and your partner need to sit down and make this a win/win for the both of you. Honest and sincere communication is one of the fundamental traits for a healthy and lasting relationship. It is important that you feel comfortable and accepted in your home environment and if you are both equally in love and wanting to make your relationship work, it will take both of you to commit to a mutual resolution.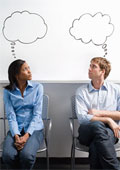 I guess my first thought is to work on finding a solution that will satisfy both of you. If this living arrangement is temporary because he is working on saving money for your future home and life together, then you both need to set a time line and work towards that goal. For any relationship to last requires compromise and open communication; however, if he plans to live indefinitely with his family because he can't see himself separated from them, you need to know that truth so you can find a solution that will best serve you, your heart and your health.
Before you moved into his families home, some of these discussions and points needed to be resolved. But since you are already knee deep into an environment that intimidates and stifles you, you my friend are the one who needs to make wise decisions. Either you accept the situation or change it. The power is within you. This is a great opportunity for you to step up and be a leader over your life. If this is your home too than you can make the best of it and enjoy your surroundings. No one is asking you to hide in your room. Some hard choices will need to be made by you. It definitely takes courage and strength on your part but when you decide to take charge of this situation and equally implement change with your partner, you will feel much better.
Posted by Intuition Girl
In this week's edition of Straight Talk with the Intuition Girl, I come to the aide of a woman who is troubled by the state of our Union, and provide suggestions to help her maintain a positive mindset.
Joan Marie,

I am feeling the stress and anxiety of what is happening in our country and the world and I was wondering if you have any words of wisdom that would be helpful to all of us who are experiencing the same kind of worry and disconnect?

Thank you in advance for your thoughts.

Sally-Jo
Dear Sally-Jo:
Thank you for this question. I am sure it is one everyone needs answered at this time. Please know that when you can not rely on the state of the economy and you feel the pain of all that is happening around you, it is important to focus on you– your attributes and begin to rely on your capabilities and values. Your mental attitude and behavior will make the difference in your life. Now more than ever, it is important to have a plan in place for you. First and foremost remind yourself that you needed to be here at this time and you are going to trust yourself that you can do the right thing for your personal survival. Secondly, become educated on what you need to do to succeed at this time. Believe it or not there is plenty of money right now for people and an abundance of jobs.
Keep your mindset strong and maintain a posture of determination and perseverance. Keep on a schedule, what is it you want to create with your life? More than anything stand firm and do not let any negative thinking get in your way. This is a time of great opportunity and to live out your heart's desires. Please go the extra mile right now for you and your family. If you have a lot of financial questions, please seek the best advice and become educated on what options would best serve you. We are in a paradigm shift in the world. Events and changes will occur and opportunities are waiting to be discovered. Do not feed into the doom and gloom and STOP listening to the newscasters. They want us to move into worry and fear. That keeps us tuned into them–It is self-serving and profitable for them!
My suggestions are:
1. Each day write out three things you want to focus on. Remember what you focus on will become your reality.
2. Write out three things you will place your thoughts on throughout the day.
3. Write out three things you want to receive. There is still plenty of positive momentum right now in the Universe–tap into its energy.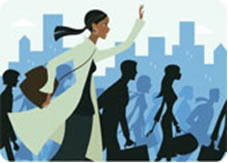 4. Write out three blessings that you experience every day.
Please continue to walk forward with faith and hope and ask for the courage and strength to stand tall, walk forward and keep your eyes on the light.
Blessings,