Posted by Intuition Girl
"How smart or dumb you are depends on where you're standing," said Burt Reynolds in Smokey and the Bandit. We do not always have the ability to think clearly or understandingly. In fact, it would be unfair to analyze others when we ourselves do not have a stable and harmonious balance in our own lives.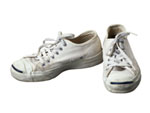 Remember, our own life experiences are not nearly as wide as we think they may be and do not mirror every individual around us. Not all (of us) can understand what or how something is affecting another if we are not standing in that individual's shoes; primarily because we come from different backgrounds, different cultures and different lifestyles. We mirror each other only in that we breathe, live, love and coexist. We can only find clarity in what is happening in our own lives and how we are being affected by our own choices.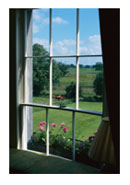 If you are clear in mind, body and spirit, you can begin to not only see the bigger picture for yourself but for those around you and in the environment which you share. Ever heard that phrase how one man's trash is another's treasure? Or, in another case, how one man's loss is another man's gain? We cannot always see eye to eye on all issues, but when we start to clean up our own backyards, then we can work together to salvage and bring balance to all of our relationships. Think of your mind as a window. When you pull up the shades on the panes, you shed light on all that is around you. You are able to see all the areas that need clearing, cleaning, and dusting. You are also able to see all the beauty that surrounds you. Having an open mind (or an open window) to the world around you gives you a sense of heightened awareness that makes things brighter, lighter and injects insight into the darkness (or the sorrows of your mind).
Having clarity and vision are gifts that are not only enlightening, but powerfully useful when exploring your dreams, communicating your goals, and achieving them. Let the light shine through the panes of your mind so that you too, can begin to truly understand how the flow of Universal energy works in your life.
Until we speak again, I am
Joan Marie, your Intuition Girl
© Clarity-It does a Body good — 2012
By Joan Marie the Gift, Intuition Girl
Are you interested in becoming your own Master Intuitive? Joan Marie has an upcoming 5-Month Intuitive Life Coaching Program beginning January 16, 2013.  Call the office  (941) – 954-9001 to speak with Joan Marie to see if this program is right for you!
Posted by Intuition Girl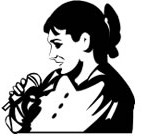 What are you broadcasting? How is your voice being heard? What does your voice really want to say? While all of us may not be fully aware of it, we have the power inside us to share meaningful dialog and information; and we also have the power to be destructive in the same manner.
In a world that is filled with modern conveyances and one that is rapidly changing at the speed of light, we all too often forget the basis of communication; and that is sharing worthwhile information, thoughts and ideas stemming from the greatest value of all= love. For just one moment, I want you to think about that word: LOVE. Say it aloud to yourself. Do you hear and feel how easy it is to say when it rolls off your tongue? In fact, when you say it, it tends to calm the heart and mind.
What we say and how we respond in conversation and within our relationships can be either helpful or undermine our own growth — both personally and professionally.

How do you speak with others? How do you relate with others? When you are communicating with others, do you take their feelings and their circumstances into consideration? Do you assume that an individual knows what you are thinking? These are all questions you should ask yourself in your mind's eye before entering into dialog. Many of us do this day in and day out (online and offline) in our social networks, in public, at the office and at home. We forget that the things that we say and do have consequences: one's actions cause an equal reaction. If you berate or belittle someone with your words or deeds, otherwise meaningful communication is quickly depleted and nothing positive can come of that.
When we employ our conversation and our energies in a positive way by listening as well as conveying the messages we want people to hear and understand, we open the doorway to creativity and deeper levels of communication. In doing so, we begin to exchange positive energies that help us to grow as well as promoting growth in others. What are you doing today to responsibly expand the conversation in your world as well as enriching the lives of others? What seeds of inspiration can you sew today?
Let me know your thoughts…I would love to hear from you today!
I am always,
Joan Marie, your Intuition Girl
© Copyright – All Rights Reserved
Having a Responsible Voice
By Joan Marie the Gift, Intuition Girl
About the Author: Joan Marie is the extraordinary lifestyle expert for everyday living. She travels throughout the United States sharing her gifts and her Lifestyle Makeover Programs with solo-preneurs, professionals, small business owners, and large companies. Her Manifestation Method Program and Lifestyle Makeover Programs are designed to help people change their lives. For more information about Joan Marie and her upcoming, exclusive events, please go to: www.joanmariethegift.com
Learn more about Certified Master Intuitive Joan Marie Whelan –Intuitive Counseling and Intuition Coaching Specialist
Posted by Intuition Girl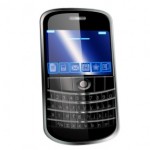 Personally, I have found texting to be a fast and effective way to shoot a quick message via my mobile phone.  Whether I am on the go or just cramped for time, it gives me the freedom to respond to my emails or to send someone a short note on what I am doing at the moment. I have discovered, however, that mobile to mobile texts, as well as tweets, posts, or modern-day social networking by any other name has taken on a whole new dimension. In fact, texting has become comparable to letter writing and phone conversations. The major difference, of course, is that much of what we text or message online (via blackberry, iphone or the web, etc.) has become a bit broader in terms of particle length, but more hyperbolic in context. This compels me to ask the following question: When is the last time you had a deep and meaningful conversation?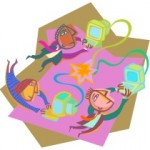 I recognize that modern technology offers us a plethora of ways to communicate and it has given us quick access to information in real time; but it has also dramatically reduced significant dialog. The quality of our conversation has begun to deteriorate because now with all of the social media networks, we are able to initiate a post or tweet with sound bites, YouTube videos, graphics or article links with short op-ed notes.  We can quickly key a little side note stating our thoughts or opinions on a topic and let it ride.  That is perfectly fine but it is also frequently a one-sided conversation. But what happens when we begin demoralizing individuals and throwing out personally offensive tidbits?  It is absolutely acceptable to agree to disagree in a mature chat, but you have to draw the line when it comes to attacking an individual on a personal level.  I have seen a few tweets and posts where I thought, "My goodness, what is that person thinking?"  There is a chat acronym that is written, "TMI" – Too Much Information.  I personally do not want to read about someone's intimate life in detail. That is the same as airing dirty laundry for the sake of some distorted sense of gratification.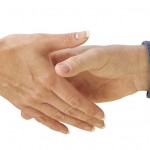 Remember, we are all entitled to our opinions and the First Amendment guarantees that right to American citizens.  We must always take into consideration how our words, deeds or actions can and will affect those around us. Always be prepared to intuitively understand what consequences may unfold when you unleash your opinions, your texts, your messages…each has its own defining moment. Additionally, how you present yourself to the world may not matter much to you, but you have to first matter to yourself so that when you do initiate dialog, you raise the bar not only for yourself but extend an open hand to those around you.
Until we speak again, I am
Joan Marie, your intuition girl
© Copyright - All Rights Reserved
Reading between the texts
By Joan Marie Whelan
About the Author: Joan Marie is the extraordinary lifestyle expert for everyday living. She travels throughout the United States sharing her gifts and her intuitive gifts  with solo-preneurs, professionals, small business owners, and large companies. She is the author of:   "Self- Discovery: The Nine Principles to Reveal Your Sacred Gifts" which is available through Amazon or our web site.    For more information about Joan Marie and her upcoming, exclusive events, please go to: http://www.joanmariewhelan.comand click on Lifestyle Makeover Programs.
Posted by Intuition Girl
Question 2:
Dear Joan Marie: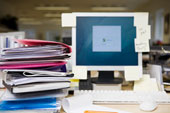 I love receiving your newsletters and Monday morning inspiration. You are like a breath of fresh air that I need to breathe in on a daily basis. My question to you is that I procrastinate often. I know that I need to get certain things done but I continually put them off. I do it with bills, my business; and I constantly create turmoil within myself. Can you help me understand why I do this? Thank you so much for your time.
Sincerely,
Samantha Harding
Answer:
Dear Samantha:
Procrastination is often an issue wrapped around lack of self worth. It sounds as if you are creating an endless cycle for yourself to keep you in an emotional state of conflict. The key for you is to heal your emotional state. I suggest that you daily begin to talk to yourself and share with your Inner Soul, Your Authentic Self, all the good things that you are accomplishing. List several things that you are contributing towards that are blessings in your life.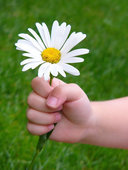 Leadership is a common thread that weaves in the lives of all of us. How we envision our talents and skills determines how we project ourselves out into the world. I believe it is about you being a leader in your life. When are you going to step up and say I am worth it? You need to re-build your self-image and feel confident in your abilities. Trust your decisions and choices and know that structured time will help you move past your hesitation. Unworthiness is a learned condition that is no longer serving you. You need to create new habits within yourself and for yourself on a daily consistent basis in order for you to realize your true value.
Many Blessings,
Posted by Intuition Girl
Question  1:
Dear Joan Marie: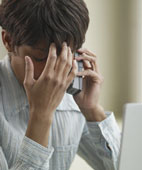 I don't know where to start; I am with a good man and I love him—the thing is, that we also live with his family, and never have any space or time for us and it is getting to me. I have tried to talk to him but he will not move and get us our own place to live. I have also tried to think of it as a good thing and tried to do and say all the right things but I don't feel like it is my home. I feel like a prisoner, I stay in my room and I don't eat all day until he comes home or I go to work and eat there. Maybe you could give me some words of wisdom to get me through this mess.
From,
Cynthia
Answer:
Dear Cynthia:
I understand that you are in a tough situation right now. My feeling is you and your partner need to sit down and make this a win/win for the both of you. Honest and sincere communication is one of the fundamental traits for a healthy and lasting relationship. It is important that you feel comfortable and accepted in your home environment and if you are both equally in love and wanting to make your relationship work, it will take both of you to commit to a mutual resolution.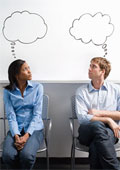 I guess my first thought is to work on finding a solution that will satisfy both of you. If this living arrangement is temporary because he is working on saving money for your future home and life together, then you both need to set a time line and work towards that goal. For any relationship to last requires compromise and open communication; however, if he plans to live indefinitely with his family because he can't see himself separated from them, you need to know that truth so you can find a solution that will best serve you, your heart and your health.
Before you moved into his families home, some of these discussions and points needed to be resolved. But since you are already knee deep into an environment that intimidates and stifles you, you my friend are the one who needs to make wise decisions. Either you accept the situation or change it. The power is within you. This is a great opportunity for you to step up and be a leader over your life. If this is your home too than you can make the best of it and enjoy your surroundings. No one is asking you to hide in your room. Some hard choices will need to be made by you. It definitely takes courage and strength on your part but when you decide to take charge of this situation and equally implement change with your partner, you will feel much better.