Posted by Intuition Girl
Question  1:
Dear Joan Marie: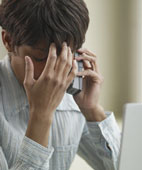 I don't know where to start; I am with a good man and I love him—the thing is, that we also live with his family, and never have any space or time for us and it is getting to me. I have tried to talk to him but he will not move and get us our own place to live. I have also tried to think of it as a good thing and tried to do and say all the right things but I don't feel like it is my home. I feel like a prisoner, I stay in my room and I don't eat all day until he comes home or I go to work and eat there. Maybe you could give me some words of wisdom to get me through this mess.
From,
Cynthia
Answer:
Dear Cynthia:
I understand that you are in a tough situation right now. My feeling is you and your partner need to sit down and make this a win/win for the both of you. Honest and sincere communication is one of the fundamental traits for a healthy and lasting relationship. It is important that you feel comfortable and accepted in your home environment and if you are both equally in love and wanting to make your relationship work, it will take both of you to commit to a mutual resolution.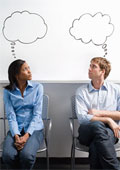 I guess my first thought is to work on finding a solution that will satisfy both of you. If this living arrangement is temporary because he is working on saving money for your future home and life together, then you both need to set a time line and work towards that goal. For any relationship to last requires compromise and open communication; however, if he plans to live indefinitely with his family because he can't see himself separated from them, you need to know that truth so you can find a solution that will best serve you, your heart and your health.
Before you moved into his families home, some of these discussions and points needed to be resolved. But since you are already knee deep into an environment that intimidates and stifles you, you my friend are the one who needs to make wise decisions. Either you accept the situation or change it. The power is within you. This is a great opportunity for you to step up and be a leader over your life. If this is your home too than you can make the best of it and enjoy your surroundings. No one is asking you to hide in your room. Some hard choices will need to be made by you. It definitely takes courage and strength on your part but when you decide to take charge of this situation and equally implement change with your partner, you will feel much better.
Leave a Reply