Posted by Intuition Girl
Today's Inspirational video is about the joy of transforming: Every single day we have the opportunity to make a new decision. Use this time as a lift off for the new year!
Posted by Intuition Girl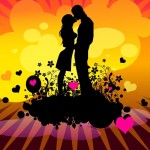 Ever wonder how some couples stay happily married for 50 years or how in love some couples appear to be? Call it chemistry, call it an instant click, or maybe…just maybe there was something intuitive about these relationships that made them work quite as well as they have.
There are a lot of singles in the world seeking that perfect mate…a soul mate for life. The trouble with searching for the perfect match is that perfection is far from easy to find…and sometimes perfection is not at all what we are seeking. Somewhere along the line, we have been tricked into believing that love creates sparks, whistles and bells… a large display of fireworks. And then when we finally discover love, it is not at all what it's cracked up to be. Bummer.
There is some good news, however. When you use the following five intuitive points to discover your "perfect" life partner, you will find it's a lot easier to open the lines of communication to get a relationship established.
1.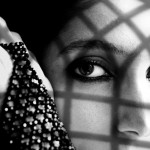 The eyes have it! When you walk into a room (or any place for that matter) and you notice that your eyes meets another's, do you shy away or do you feel drawn to that individual? The feelings that you evoke at that precise moment are your intuitive powers kicking into overdrive. How you feel and what you perceive from that individual are clues as to whether or not that certain somebody is a match for you. Let your conscience be your guide in this case. More often than not, it can provide you with the hint you need as to whether or not this person is a fit…at least by first observation.
2.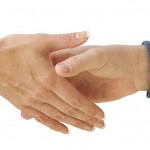 Pay attention to hand signals! Now that you have made an eye-connection, observe the individual's body language. Body language can intuitively tell you how the person might react to your advancement. Rather, if the individual may make a move toward you. If the person is open handed and relaxed, that individual may welcome dialog with you. If the individual is sitting with legs or arms crossed, s/he may not wish to engage in a conversation.
3.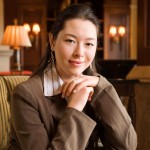 Smile or frown? When you see an individual, you can usually intuitively pick up on that individual's emotions. Sometimes these feelings can run a gambit and may be covered by a wincing smile or strained laugh. Study the individual for a welcoming smile or any other facial expression. Watch body movements (shifting, toe or finger tapping, etc.) too, because these are usually closely tied to facial expressions. The woman pictured on the right, for example, is saying, "Hi. I would really like to talk to you but I am shy." (Notice the hands crossed resting beneath her chin.) The smile however is genuine.
4.  Nervous habits. If an individual is steadily tapping his or her fingertips upon a desk, table, or other platform, it means that the person is in a rush or may be a very impatient person. If you are a more laid-back individual, you will find that patience and impatience do not always go together. Intuitively and physically, you can also pick up on subtle habits like fidgeting with hair, tugging on ear lobes, or eye movements. When an individual is speaking with you, pay attention to which direction his or her eyes are shifting. If the person looks you straight in the face or slightly shifts her eyes to the right, she is being truthful. If the individual shifts his eyes overtly to the left, the person is often being dishonest. Also signs to look for which may or may not mean anything at all are eyes that ride the floor. Many times, when individuals are shy or aloof they may dread direct eye contact in fear of being "shut down" or "shut out".
5.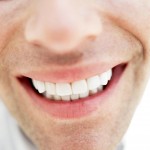 Voice. An individual's voice also plays a pivotal role in how we perceive that person. Fast, high-pitched voices may be annoying to some individuals. In some cases, slow, monotone voices can be likewise boring. Using your intuition, you will find that your voice octave often matches a prospective match. It's a matter of listening to your potential counterpart and determining if that individual is a good match. Also note that certain octaves are more ear-pleasing to one another, so while our octaves may not be perfectly in sync, our intuitive attraction is.
Until we speak again, I am
Joan Marie, Your Intuition Girl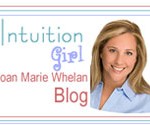 Learn more about Certified Master Intuitive Joan Marie Whelan — Intuitive Counseling and Intuition Coaching Specialist
Posted by Intuition Girl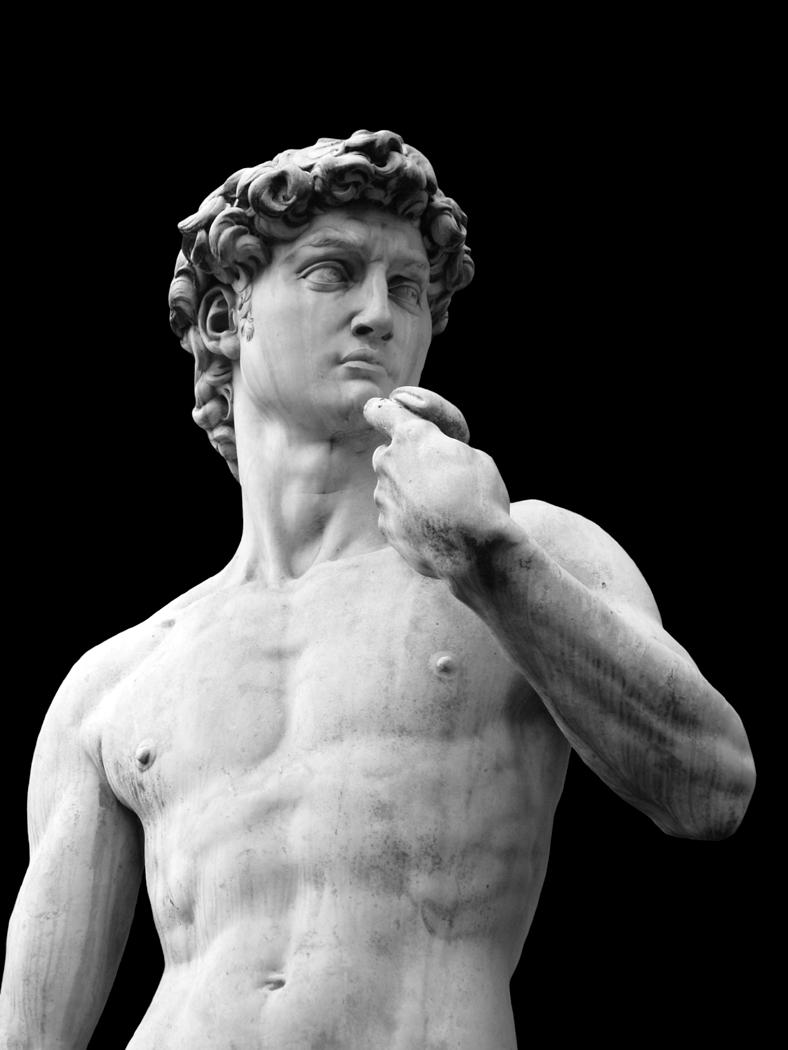 Are you stuck in a rut and cannot seem to find the end of the tunnel?  Did you ever think that you might possibly be preventing yourself from moving forward by holding onto past hurts and other emotional baggage?  In my practice, I have met so many clients who truly want to change the course of their direction but simply have no clue on how to proceed. I have found that the initial step to creating wealth and prosperity in life is to first learn the art of forgiveness. Don't laugh. I mean it. We all hold onto resentful feelings and guilt. We let these emotions take over our daily living and even our entire lifetimes. It's not easy carrying the weight of the world on your shoulders when you're trying to climb a mountain.
Let's discuss five tips that can help you learn the art of forgiveness so you too, can begin to enjoy the fruits of your labor without the added stress of that heavy load you've been shouldering. From here on out, I want you to remember the acronym: SILLY
S

trategize. With any successful encounter, we have to plan a strategy that works best to benefit our individual lifestyles.  What do you really want out of life? If you are trying to climb the corporate ladder or just want to find peace with a significant other, then you must gear yourself up to meet the task at hand. That means you need to come to terms with your emotions and draw out a plan of action to put those monsters to rest. First, write out all the feelings you've been harboring: guilt, anger, frustration, malaise, intimidation, inferiority, low self-esteem, hatred, sorrow… you name it, write it down. Now, look at that list. One by one, I want you to try and recreate each feeling associated with the word you have written. Can't do it, can you? Good. Next, cross off each word on your list. Breathe in. Smile. That's the first step.

I

mplement. Since you've crossed off your list of negative emotions, you've already made a major step toward realizing your potentiality through forgiveness. Let's take that and run with it… say aloud to your self: "I forgive myself for ___________ (fill in the blank). My emotions no longer have control over me. I am in control of my life. No words or feelings can stop me from moving forward from this moment onward."

L

earn. We've all had past encounters that weren't always the best experiences. The good news is that when we allow forgiveness in our lives, we are forgiving ourselves and releasing all the negative energies that have infiltrated our daily routines and relationships. Know from your experiences that learning forgiveness is fundamental in creating happiness in life. Whether it's an old supervisor who seemingly drove you to the brink of insanity, or a past love that may have broken your heart… only you have the power over your emotions. Your boss didn't make you insane. Your significant other did not break your heart. In all actuality, it was your emotions getting the better of you. So let's learn from those experiences and know that only you can determine your feelings and the outcome of those feelings.

L

ove.Ah, love is such a simple four-letter word but it holds such deep and profound meaning in itself. When you forgive yourself, you are honoring yourself and replenishing the love within you. Just as a beautiful rose bud opens to full blossom, you too will open to your full potential when you learn to love and forgive yourself so that you can become the beautiful rose among the thorns that life may toss your way.

Y

ou. You are a magnificent living thing. When you focus on yourself and learn that you have so many powerful and wonderful things going for you, you begin to understand the nature of life and how to better cope with negative events and encounters. When you breathe, are you intentionally working to breathe or is your inherent life force doing that for you? Your life force is the central, most significant aspect of your daily life. It keeps your heart pumping, your lungs breathing, your eyes seeing, your nose smelling, your ears hearing… and somewhere in the mix of all these actions is your intuitive consciousness that allows you to see beyond the realm of your physical constitution. Your intuitive consciousness is also a constant. It never waivers. It never falters. But it is there for you and with you. It is that essence of "You" within that when released from the burdens of negativity becomes the abundant source of your very beingness. And it all begins with the art of forgiveness.
Isn't it time to become SILLY, bask in your uniqueness and just let forgiveness back into your heart so you can be the best you can be? Let me help you take your life journey to the next level by joining me on my upcoming Program on Forgiveness…you have nothing to lose and opportunities to gain!
© Copyright – All Rights Reserved
5 Tips on the Art of Forgiveness
By Joan Marie the Gift, Intuition Girl
About the Author: Joan Marie is the extraordinary lifestyle expert for everyday living. She travels throughout the United States sharing her gifts and her Lifestyle Makeover Programs with solo-preneurs, professionals, small business owners, and large companies. Her Manifestation Method Program and Lifestyle Makeover Programs are designed to help people change their lives. For more information about Joan Marie and her upcoming, exclusive events, please go to:www.joanmariethegift.com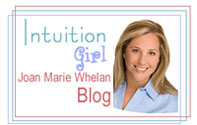 Learn more about Certified Master Intuitive Joan Marie Whelan – Intuitive Counseling and Intuition Coaching Specialist
Posted by Intuition Girl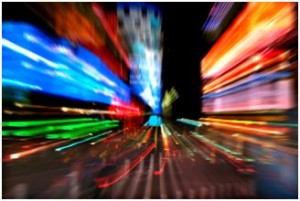 Have you ever noticed that when opportunity arises, it's never in "our time"? Rather, it comes at sometimes the most "inopportune" times – meaning that we're often not prepared to receive it and use it to our advantage.
Here's a great example: An individual I know (we'll call him Dan) had a fairly-good career, but he was pining to move to another part of the country to be near the rest of his family. Dan had begun submitting resumes to different employers for a couple of months, when he suddenly got a phone call. In a twist of "unexpected" fate, he was offered the position he'd been trying to attain. Now Dan had to reshape all his current plans because the opportunity came so quickly. It took Dan a few days to make his decision to move, but only after he was caught so off guard. But was he really? You see, Dan had made the active decision months earlier to pursue another career. The intention was planted, and as time unfolded, his actions ruled his outcome – those actions transformed into his acquiring the job he sought.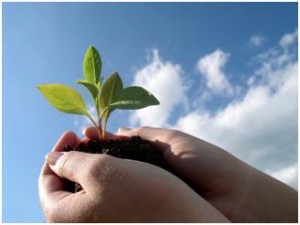 Many times, we plant seeds of intention…unintentionally. What I mean by that is sometimes we start thinking about what we want; except when we do, we have planted a seed of intention. Intention turns to action, and action results in an equal reaction.  The same holds true for ill thoughts. Unlike Dan, there are some people who bring negative results into their lives because they plant unhealthy seeds in their minds. If you can think it, it can happen. The whole point of the matter is that whatever you think, you become. So if your true intention and desire is to land the job of your dreams, you will subconsciously begin acting on that thought's behalf. The same holds true for pessimism and procrastination. If you think that you "can't" perform a certain job, or "I'll never own a house," or "I can't get that promotion," etc. — then guess what? You won't.
Opportunity always comes fast and furious but we have to be ready to receive it. When we plant the seed of intention – for whatever that may be – we must realize that it will come. It may not magically appear overnight, but when opportunity does come knocking at life's door, you've got to be mentally and intuitively prepared by opening your mind to the potential and blessings that are ready to come into your life.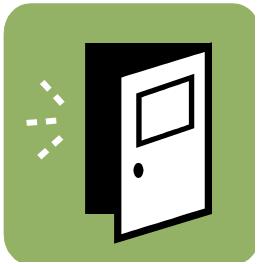 What are you thinking at this moment? If you're like Dan, you're ready to acquire prosperity, wealth, and happiness. You can't afford to not be prepared for opportunity. You know that whatever it is that your heart desires that you can attain it. But it begins with a seed of intention, and that intention requires action on your part. How far are you willing to go to land the job you've always wanted? How deep are you willing to dive to find that buried treasure? How long are you going to keep stopping yourself from achieving success? It really boils down to you. You are a walking billboard indicative of your life. What you project is just as important as what you take into your mind's eye. When your perception of life is in tune with your focus of intention, you begin to rapidly increase your chances at opportunity. Go ahead – plant your seed for opportunities today. I know you can, and so do you.
Until we speak again, I am
Joan Marie, Your Intuition Girl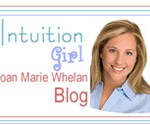 Learn more about Certified Master Intuitive Joan Marie Whelan — Intuitive Counseling and Intuition Coaching Specialist
Posted by Intuition Girl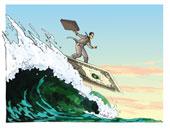 If your goal is to manifest wealth and success in your business, then you must mentally prepare yourself to achieve what it is you want.  In order to reach your true potential for prosperity, you need to use strategic visioning to develop a healthy and productive atmosphere.  But what exactly is strategic visioning, and what does it have to do with your intuition?  Allow me to elaborate:
If you are a business professional, or are in the process of establishing your entrepreneurial venture – it is time to learn about strategic visioning so you can create a rich environment for yourself.  Adapted to the Universal flow of energy, your intuition is an excellent resource to create abundance and professional success.
When you absolutely desire prosperity, strategic visioning is an essential instrument to fulfilling your heart's ambitions.  Drawing on past and present experiences, likely tendencies, and strengths and opportunities to form an intricate plan in climbing the ladder to financial freedom, is what strategic visioning is all about.  Not only do we apply analytical conclusions to developing our outcome, we must also rely on our intuition.  Why? Our intuition is in direct alignment with the Universal flow of energy that dictates our destiny.  When we listen to our inner wisdom to gain knowledge and inclinations for our appropriate plan of action in combination with strategic visioning, we are using our mental and emotional awareness to its fullest potential.
How does strategic visioning and intuition generate $$?  Good question.  In order to accumulate wealth and prosperity in life, you must plant the seed of creativity in all you do.  When you tap into your intuition, you are tapping into a powerful source of information.  Imagine walking on a tight rope with a balancing pole.  Your rope is about 30 feet in the air.  If you look back or down, you might get dizzy. However, your balancing pole is what keeps you level as long as you look straight ahead and focus on meeting your objective at the other side.  Your intuition is much like this balancing pole.  It is your guide to keeping you in-tune with your intent and your focus.  And when you're walking a literal or figurative tight rope in life, you can't turn back or look down because it takes your eye of the mark. Your "rope" is your support system or lifeline, and part of your strategic vision to accomplishing your goals. You can reflect on past experiences and use them as a challenge to overcoming obstacles; but you should never retreat or look down upon yourself, as you will certainly become unbalanced.
How far along are you on your tight rope of life?  Are you using your balancing pole (intuition) and are you grounded on your rope (strategic vision)?  These are key to creating the success you desire, and gives you the ability to corner the market for wealth and prosperity.
Until we speak again, I am
Joan Marie, Your Intuition Expert
PS - Discover how to transform your lifestyle and create positive changes through the Manifestation Method - a life-changing tool that can help you in your quest.  To learn more, visit me, Joan Marie at www.joanmariewhelan.com
© Copyright - All Rights Reserved
Intuition and Marketing: Creating $$ with Strategic Visioning
By Joan Marie Whelan
Learn more about Certified Master Intuitive Joan Marie Whelan and Intuitive Counseling