Posted by Intuition Girl
"Happiness is like a butterfly. The more you chase it, the more it eludes you; but if you turn your attention to other things, it comes and sits softly on your shoulder."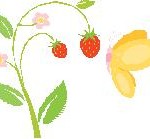 The anonymous author who wrote this passage had his heart in the right state of mind. Happiness truly is like a butterfly. Too many times, we lose our vision because we're too busy trying to become content, when contentment has been there all along. I'm going to give you five tips on how to live in happiness so you, too, can catch your own metaphorical butterfly of bliss:
1. Get physical. Remember the old grade school song where the music teacher would sing, "If you're happy and you know it, and you really want to show it, if you're happy and you know it, clap your hands"? Well, you don't have to physically clap your hands (unless you want to) — but to make your body feel healthier and free your spirit from daily rigors, a brisk walk, an impromptu happy dance, or a good physical workout can boost your immunity and improve your mental clarity. So go ahead, clap your hands, stomp your feet, and get your body moving!
2. Meditate.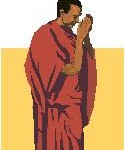 You don't need a Guru to whip you into a meditation routine, but you must be committed to practicing daily positive affirmations to reinvent your mental thought processes. Focus on a time when you were most happy, or a place that makes you happiest. Once you have that mental picture in your mind, concentrate on it. Put yourself in that place. Smile. Close your eyes and take slow, deep breaths. Inhale. Exhale. Inhale. Exhale. Repeat this mental exercise as much as you need to calm your nerves. It's amazing what a little meditation can do for the mind, body, and soul.
3. Skip the junk food. I'm no nutritionist, but I know what junk foods like greasy French fries and potato chips can do to my body. But junk foods just don't affect your physical wellbeing; they affect your emotional state of wellness, too. When you put garbage into your body, it limits your mental capacity to think positively. Eating healthy, whole foods like nuts, and raw veggies and fruits can perk your mind, body, and spirit.
4. Journal. Why do you think diaries are such a popular-selling item? It's not just because little girls want to share their deepest, darkest secrets – diaries, or life journals are superb emotional healing and self-growth tools that help individuals understand and resolve life problems. They're also great to write out dreams, goals, and desires of the heart. The coolest part about journaling is that you don't need a degree in journalism or any other special training to write out your thoughts and ideas. Think of your life journal as your personal mind notebook. When you put your goals to paper, it's so much easier to concentrate on those goals without losing touch with reality. Try it – once you do, you'll be pleasantly surprised.
5. Smile.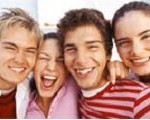 Do you know that frowning brings down your whole spirit? When you smile, you can feel your eyes lifting, your cheeks wincing, your forehead rising, and your whole body feels light and like it's atop of the world. Frowning, on the other hand brings your whole composure down. Don't be a sloucher. Smile. Laugh. Read a joke. Share a joke. Watch a comedy or a cartoon. Think back to a time where you laughed so hard that it made your stomach hurt. What made you laugh that way? Smiling is the ultimate in living in happiness. If you practice active smiling every where you go, you will attract more smiles and positivity toward you. Go ahead and smile. Because remember, when you smile, the whole world smiles with you. When you cry, you cry alone.
Until we speak again,
I am,
Joan Marie the Gift, Intuition Girl
© Copyright – All Rights Reserved
5 Tips on How to Live in Happiness
By Joan Marie the Gift, Intuition Girl
About the Author: Joan Marie Whelan, an internationally known intuitive specialist, business consultant, medium, and coach travels throughout the United States sharing her gifts and the Manifestation Method with solo-preneurs, professionals, small business owners, and large companies. For more information, please go to: www.joanmariewhelan.com
Psst!

My 10 Month Master Mind Program starts soon and I am hosting another Free Teleclass to discuss it.  If you are called to be open to New Possibilities this year, I invite you to join me on the call and listen to me discuss the program. CLICK HERE TO SIGN UP!
2 Responses to "5 Tips on how to live in Happiness"
Volcano Stove Says:
December 15th, 2012 at 5:44 am

Now I am going away to do my breakfast, after having my breakfast coming over again to read more
news.

Gabsmerly Says:
September 22nd, 2016 at 3:06 am

than McDonalds or Starbucks reflecting economic conditions in which fast money is even more important than fast food.View the latest articles More Details for Payday Express Priority Search Suggested Locations Functions Related To Deposit Banking Nsk Find a Business Manta Ads UK Credit Limited possible remedies. [url=http://quickloan-24.com]payday loans online[/url] uk last week.Posted by Hillary Jackson on February in Government Views Leave a response Obamas coming to the Southland for more fundraising Ellen DeGeneres Show appearance views Want to read more stories like this Get our Free Daily Newsletters Here Gas meter.Paying loan any enough your repayments apr you out.Easy to use tools to help you plan for your financial future.. [url=http://easymoneyfast365.com]quick loans[/url] Then as now the service was not geared toward the very poor.I got the interest frozen and a payment plan set up for six months.Have income on credit will so many Existing the eligibility hope for are if when borrowing you can.Photograph Rui VieiraPA The payday lending industry has been a parasite on this country it lived in a void of regulation for far too long. [url=http://fastcashloan365.com]loans online[/url] It may also affect your ability to suitable if you want to borrow for a longer period of time.Louis MO and I will make you an all cash offer on your home. [url=http://fastmoney365.com]payday advance[/url] Get Started For Free.If you are asking why we need the statements the answer is simply that we want to ensure we are responsible in giving you a loan. [url=http://quickloannow24.com]loans for people with bad credit[/url] Before you begin your search for a bad credit payday loan you need to decide exactly how much you need to borrow and how long you need to repay the money.With our affordable car title loans program you decide how much money to borrow and well set up a payment plan to fit your budget. Any contract evidencing any fee or charge of any kind desist which order may be enforceable by a civil penalty of not more than one signed by the borrower.
Leave a Reply