Posted by Intuition Girl
Has anyone ever told you that? Well, if someone has not, then I am here to tell you this is the absolute truth: "You are as good as you think you are." This means that if you have enough self-confidence to persevere and the motivation and willpower to drive through the hurdles, yes, you are as good as it gets. Though we may have our individual support systems – in the end, you have yourself to rely upon to wade through the hard stuff, climb over the rocky stuff, and embrace your reward at the end of the day.
You are empowered, whether you believe it or not, to create success in every aspect of your life. You must first choose to be happy in your own state of mind. "But I'm not happy," you say? Why not? No one is making you unhappy. In fact, no one or nothing has the power to make you feel any certain way. If you are blaming others for your feelings of lack and regret, then truly you are wallowing in your own pity pool. Step away from the anger, rise above your feelings of injustice and turn those powerful emotions into something inspiring, motivating and productive. You see, if you are going to harp on past hurts, you might as well use that energy for something that is not so counterproductive. It is not as elusive as you may think.
Is this you? "Life is NOT fair. I am sick and tired of everyone else getting ahead and all I seem to do is get stuck in the mud, why?" If this mirrors your perception and reality, perhaps you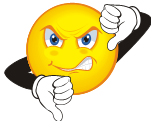 need to look to those who are getting ahead and follow their lead. Maybe it is not so much because they do more work than you but they may work smarter, and maybe they have a brighter attitude and outlook on life. When you notice that others are getting ahead of you and becoming successful in their own respective fields, then it is time to conduct a gut check on your own perception and the approach you have been taking to make progress in your own life. If you have a negative mindset and you keep believing that you are incapable of achieving those same successes, truth of the matter is that you are as good as it gets. "Yeah, but they were born with a silver spoon. They did not have it as bad as I had," you say? If I had a nickel for every time someone used that crutch to excuse his or her own lack of motivation to get ahead in life, I would be one of the wealthiest people in this country. Stop it!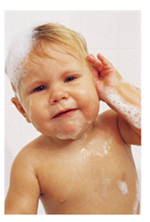 Life is NOT fair. No one said it would be. The beauty of life is that we are all born the same way: we are all equally born naked. Which means that we have the equal capacity to achieve the greatness we are destined to achieve. What this means is that we must approach life innocently and "naked" to receive the subtle messages that the Universe is attempting to send to us. If we block ourselves with negativity and hardened hearts, then we have no one else to blame for our failures but ourselves. If you are ready to attract prosperity, success and happiness in your life, then you must genuinely play the role. Stop dwelling on your emotional baggage by forgiving yourself and freeing yourself from the woes you have carried with you far too long. Remember, you are as good as you think you are!
Posted by Intuition Girl
Posted by Intuition Girl
Posted by Intuition Girl
Warning
: trim() expects parameter 1 to be string, array given in
/home/intuit/public_html/wp-content/plugins/flash-video-player/flash-video-player.php
on line
181

If you have found your way to Joan Marie's website/newsletter than you will probably understand my story. I have been on a journey – a search for who I am – for the past twenty years, most of my adult life. I was consumed by self-doubt, confusion, pain and unhappiness. I have studied, listened to lectures, been to therapy, counseled with friends, read the works of many great minds, and while it all has helped — I still felt an emptiness that has affected everything in my life. To feel so lost, yet putting on a smile and going through the motions as a wife and mother of two, was wearing me out and down. I felt like I was drowning AND asleep at the wheel. But even at my lowest, I always knew there was something more in me and that I had so much more to give. So, as I'm finding out how life works, when I was finally in a place when I was ready for it, the Universe spoke to me. I was introduced to Joan Marie by a friend of mine, who I don't see very often. We met for coffee one morning and I noticed a change about her, a peacefulness I hadn't seen before. Of course I had to ask, and she told me all about Joan Marie and her programs.
Needless to say, I felt in my friend something that I wanted and needed for myself, and coincidentally, a 6 month group program was about to begin the next week. Talk about the Universe speaking to me fast and furiously! This time, I finally chose to listen. So, very uncharacteristically of me, I jumped in before I had a chance to "think" my way out of it. One conversation with Joan Marie assured me that I was ready for this (well, I still had a ton of doubts, but I ignored them!). I have not regretted it since. I am in a group program with several other people and it has changed my life. Its like getting all my life lessons rolled into one — but in a very powerful group dynamic. Its unlike anything I have ever experienced before. As we are still in the process of it, I cannot tell you how this story "ends", but I can tell you that my life is finally beginning. Joan Marie's wisdom, powerful intuition and vibrational energy/life force has worked to "raise" me again. Properly, this time, with love and compassion. And she's no push over either – she tells it to you straight (from the Universe!) – which I love and appreciate! With the help of her equally powerful mom, we affectionally call, Joan Marie Mom, and the others, I feel like I am finally getting the proper guidance to do the real work I need to do to heal my inner wounds and break open to the real me and become the woman that I am meant to be. It has been a miracle. There is no other way of saying it. To touch and unravel a heart that has been as tight and closed as mine, is a miracle. And I thank God, the Universe, my friend, my Self, for leading me to Joan Marie Whelan. As I tell my group/my family, I am a very grateful work in progress and I am feeling more alive than I have ever felt in my life.
- Sunny B. Southern California
I have done some private work with Joan Marie and most recently completed her 3 month bridging class. When she mentioned that she would like to do another 3 month program for women, I knew immediately without question that I would be a part of it. This lead me to ask myself, " Why? Why am I so quick to make this decision and what are the measurable differences that have occurred in my life, that make my decision so strong?"
Before our bridging class, I was living (barely) paycheck to paycheck, running my own business and as a single mom with two children I felt like I was running myself into the ground physically and emotionally. The pattern of abuse that had been set in my childhood was repeated in my marriage and was still being carried out daily because it was what I thought I deserved for myself. The emotional blocks that I saw as my "comfort zone" we're keeping me paralyzed with fear and stuck in stagnation and mediocrity; meanwhile I was not fully aware of WHY I felt so tired and stuck all the time.
Joan Marie has helped me identify the patterns of my life and their origins, releasing them without blame and shame. She has taught me the power of manifestation and being effective with my feelings. In the last two months my business has almost doubled, I've secured the home I've been wanting for years and I have grown to love who I am as a person, more then I thought possible.
Looking back on my life a year ago, I am so proud of how far I've come. The more I learn, the more I'm aware that I have so much more to learn. This has been the hardest work I've ever done and I'm thankful to have Joan Marie leading me in the process. She has been my north star when I had no sense of direction.
Jodi Christine, personal trainer- www.jodichristine.com
Click here to learn more about this new program
Posted by Intuition Girl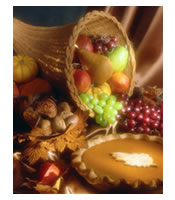 In my life, Thanksgiving brings a sense of renewed hope, love and reflection. I take this time to honor the people and events in my life, which have given me the inspiration, motivation and support to be who I am.
Do you see the beauty and bounty in this simple yet nourishing horn of plenty? I do. When I look at the cornucopia filled with an array of fruits, flowers and nuts, I appreciate the wonder and miracle of Nature's harvest. Moreover, the cornucopia is the promise of blessings to come; and if you put just a little motivation behind your short-term goals, you will eventually achieve your long-term aspirations.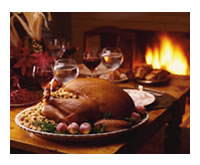 How plentiful is your cornucopia? If you are so fortunate to have family and friends to share your turkey-day feast, consider yourself very lucky. But before the main event… before you chow-down on delicious pumpkin pie, sultry turkey and egg nog – I want you to reflect on all the gifts in your life. Really take a few minutes to think about all the things that have gone right in your life. There must be something or someone that has been a blessing to you. Whether it is a close friend, who is always there to lend a hand – a warm home to call your own – the pet that never leaves your side, or the job that has paved the way for all the material things you own, now is the time to give thanks for all those things you often take for granted.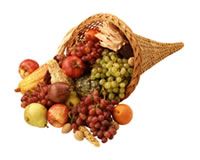 But I am struggling, Joan Marie – how can you expect me to be thankful when I have nothing to be thankful for, you say? There is always a positive flame burning for you if you only seek it. Inside each and every one of you is an abundance of wisdom that you can use to step into affluence – affluence of health, wealth and joy. You only need to make the choice to pursue happiness and prosperity. Once you do, you are well on the way to filling your metaphorical cornucopia. Remember, your horn of plenty can only become plentiful once you begin adding to it. If you continue to see a barren placeholder for the things that you want out of life, it will continue to remain empty. Start seeing the beauty and wholeness of who you are and the blessings will begin to flow.
Until we speak again, I am
© Filling the Cornucopia of your Life
November 2011
Joan Marie, your Intuition Girl

About the Author: Joan Marie is the extraordinary lifestyle expert for everyday living. She travels throughout the United States sharing her gifts and her Lifestyle Makeover Programs with solo-preneurs, professionals, small business owners, and large companies. Her Manifestation Method Program and Lifestyle Makeover Programs are designed to help people change their lives. For more information about Joan Marie and her upcoming, exclusive events, please go to:www.joanmariethegift.com
Learn more about Certified Master Intuitive Joan Marie Whelan –Intuitive Counseling and Intuition Coaching Specialist