Posted by Intuition Girl
In his popular hit song, Bo Diddley asks the question, "Who do you love?" Today, I'm going to ask you the same question: Who do "YOU" love? Now I'm going to give you the right answer: "You." You must love yourself first to achieve inner peace and happiness in your life. Don't think it's selfish to love yourself, because you are an essential part of YOU.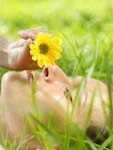 To manifest wealth and success in your life, you must prepare your path for greatness by learning to accept and love every part of you. You do this by training your mind and heart to work in unison with your spirit body. The fastest way to transform your life into one that is personally and professionally rewarding is to start a daily meditation ritual, which will help to rest your mind, calm your nerves, and inspire your soul. Some of my favorite meditation methods include the use of relaxation CDs, being in nature, deep-breathing techniques, and journaling. Another great tool is the Manifestation Method – this personal success program is designed to help you manifest your heart's desires.
Which meditation tool is right for you? That depends on your individual personality. For some, deep breathing techniques may work exceptionally well. Others find that a more guided program like the Manifestation Method, might work more efficiently.
The primary reason for meditation is to teach you how to love and accept yourself for whom you are, in this moment, at this time. It's also a great forgiveness tool. Too many of us get caught up in overwhelming feelings of guilt and sorrow. When we meditate, it helps us to gain clarity; and improves our ability to wade past the murky waters that distort our views.
Once you are able to clear the rubbish from your mind, you are better mentally and emotionally prepared to rise above circumstance, and enjoy the nature that is you. This is what being in love with yourself is all about – it's about being comfortable in your own skin. I want you to ask yourself, "Who do YOU love?" And when you do, I want you to acknowledge that it's" YOU" who matters; and "YOU", who hold the key to your fortune in life. You are, after all, a spiritual being capable of greatness in every way. Go ahead – love yourself today.
Until we speak again, I am
Joan Marie, Intuition Girl
© Copyright – All Rights Reserved
Who do you Love?
By Joan Marie Whelan
About the Author: Joan Marie Whelan, an internationally known intuitive specialist, business consultant, medium, and coach travels throughout the United States sharing her gifts and the Manifestation Method with solo-preneurs, professionals, small business owners, and large companies. For more info, please go to: www.joanmariewhelan.com
44 Responses to "Who do You Love?"
Leave a Reply