Posted by Intuition Girl
Question # 1
Hello Joan Marie:
I wanted to thank you for the interesting information that was presented in your "Coaching Collection" CDs. I am learning a lot and hope your advice can help me in my life.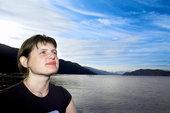 Joan Marie, please let me know if you can get any feelings regarding a home based business I just got into recently called ACN. I am working with a man named David. I know he wants to help further me in this business, but he can be very pushy, overpowering, and difficult to work with. He doesn't listen to what I am telling him. I really needed his help to get this one person into my ACN business, but he was intimidated by her because she was so much better than him, and I finally lost her as a potential partner.
When I discussed the situation with him, he felt he was not at fault. He did ask me how I would feel if someone came into the business who was better than me. I told him I felt it would be an answered prayer and that I would be very appreciative of any knowledge that person could share with me so I could strengthen my marketing and presentation skills.
Do you see me able to get this business off the ground with him or not at all? Am I just wasting my time and money or do I really need to get out of this business while I can? I am also looking for work as a home health nurse and wanting to take courses and obtain certification as a medical billing and coding specialist. I am sending out my resumes whenever employment makes itself available. I am on the internet, phone, or going to different companies and asking if employment is available.
I have learning disabilities which is making it even harder to stay focused and concentrate. Only God knows how hard I am trying to improve my life and find happiness.
Please let me know about David. If I am misreading him, I need to know that. Do you see me working with him presently or in the future? There is another ACN group here in Arizona I can go to, but I don't think they will be open to coach me in this business because they have their own team to recruit and teach. I was invited to come and learn with them and have gone to a couple meetings. But I am still trying to determine if this is the right place and right business I need to be in for passive residual income. I hope that you will see that employment is coming very soon, as my savings are decreasing as we speak.
Any advice or help from your intuitive heart would be sincerely appreciated. I welcome your comments and hope you will see the best for me in the coming weeks and in 2010.
Thank you, Joan, for all your help. Here's wishing you all the success, joy and happiness in the New Year.
Blessings, Linda B.
ANSWER
Dear Linda:
Thank you for your email. I have never heard of ACN Group so I Googled it. It appears as though it is a pyramid program and some articles do not speak favorable about it. The best thing you can do is research them- investigate them and talk to the groups you are meeting with now and see who is making money, how much; and if this company is a good partner to help you to grow and succeed.
It sounds like to me that David has a strong Ego problem and feels insecure with strong women. Having said that, he may not have been the best person to assist you. You are creating a great deal of energy fighting with him instead of producing together. I would recommend you exploring other options and if you believe in this company and its potential, call the Company headquarters and let them know you are hungry to grow but you need a teacher and mentor to get you started because you wish this to be a win/win for all parties.
I would not spend too much more money with them but I would see who is there to help you grow and make back the money you put out and more if possible.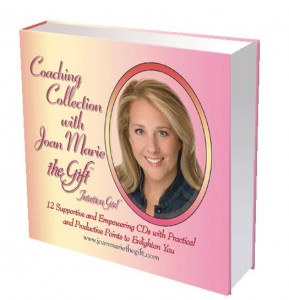 I do see you working and I like the idea of going back to school— you are a hard and honest worker. Please remember that it is important for you right now to keep your options open and let the Universe know you want to flow. Whatever emotion is creating struggle in your life right now needs to be released so you can be in better alignment for positive flow.
Keep listening to the Coaching Collection Series. It is packed with a plethora of information. The more you listen to the various topics, the more you will grow and learn; and your own personal confidence will get stronger.
Many Blessings,
Joan Marie, Intuition Girl
Learn more about Certified Master Intuitive Joan Marie Whelan — Intuitive Counseling and Intuition Coaching Specialist
3 Responses to "Professional Coaching: Overcoming Career Obstacles"
jane Says:
February 11th, 2010 at 11:39 am

This is a message for both Linda and Joan Marie. Linda mentions wanting to train for medical billing. DO NOT DO IT. It's a scam. My neice went through that and her mother paid…I want to say $500 to $1000 for the course. According to what my neice told me, the company said they would help direct their students to jobs. That did not prove true. My neice went out and talked to a lot of places that employ medical billers. The door was shut to her because she had no experience. So, in fact the degree was useless. Another neice who works in a hospital said their medical billers got their jobs by being in the system employed in other jobs for some time. They eventually got a chance at the medical billing job, but only through hiring up. My neice had no experience or qualifications for any other jobs in the business division of the medical facilities. Spending that time and money did not profit her at all. In short, she was scammed. You see how many companies are pushing medical billing training. Could there possibly be that many jobs in that area? We should have noticed that.

Rose Kirkland Says:
February 11th, 2010 at 2:48 pm

Joan Marie,
Just giving you some feedback with your opinion about the company, ACN. It is NOT—NOT a PYRAMID PROGRAM! It is obvious that you have no clue about the fastest growing industry in the world which is network marketing! ! Evidently, you don't know that every 8 minutes there are 10 millionaires being created and 10 MILLION more will be created by 2016.

Paul Zane Pilzer: Ten million (10,000,000) new millionaires will be created between 2006-2016, and The Next Millionaires explains how you can become one of them–especially if you are in direct selling, technology, home-based business, product distribution, or an emerging trillion-dollar industry like wellness.
http://www.paulzanepilzer.com/tnm.htm

Cordia Sagen Says:
August 15th, 2010 at 11:42 pm

WHAT LUCK! I I came across this site on google. this is really great stuff! I have added your site to my faves. I will be back!
Leave a Reply