Posted by Intuition Girl
Today is all about to stop waiting and hiding. Remember to take action in your mind, body and soul to make a change in your life.
Posted by Intuition Girl
I encourage fine tuning your bodies, emotions and become one with them.
We all have the power to read ourselves. Emotions have a voice, pain and aches all speak to us.
http://www.joanmariewhelan.com/
http://www.intuitiongirl.com/
Posted by Intuition Girl
Is there something inside of you that is blocking your space?
Most of us don't know that the true power and only power is inside of us 100%.
Posted by Intuition Girl
Feel your energy and go about your day, Claim full power of you, from the top of your head to your toes, Mind, Body and soul and take full ownership of you.
Posted by Intuition Girl
Warning
: trim() expects parameter 1 to be string, array given in
/home/intuit/public_html/wp-content/plugins/flash-video-player/flash-video-player.php
on line
181
Get the Flash Player to see this content.
An inspirational message is sent to give you a deeper insight into life's purpose as it also instills some meaning and awareness.
To sign up for my weekly Inspirational Messages you can fill out the form on the right hand side of my site.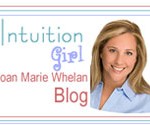 Learn more about Psychic Medium Joan Marie Whelan – Intuition Counselor and Intuition Coaching Specialist
August 29th 2012
Are you interested in becoming your own Master Intuitive? Joan Marie has an upcoming 5-Month Intuitive Life Coaching Program beginning January 16, 2013.  Call the office  (941) – 954-9001 to speak with Joan Marie to see if this program is right for you!