Posted by Intuition Girl
Warning
: trim() expects parameter 1 to be string, array given in
/home/intuit/public_html/wp-content/plugins/flash-video-player/flash-video-player.php
on line
181
Get the Flash Player to see this content.
An inspirational message is sent to give you a deeper insight into life's purpose as it also instills some meaning and awareness.
To sign up for my weekly Inspirational Messages you can fill out the form on the right hand side of my site.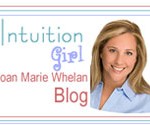 Learn more about Psychic Medium Joan Marie Whelan – Intuition Counselor and Intuition Coaching Specialist
November 7th
Are you interested in becoming your own Master Intuitive? Joan Marie has an upcoming 5-Month Intuitive Life Coaching Program beginning January 16, 2013. Call the office (941)-954-9001
Posted by Intuition Girl
Special Medium Evening in Newport Beach
JOAN MARIE WHELAN – MEDIUM AND INTUITIVE MASTER

will be hosting a Special Medium Evening

Joan Marie has the ability to read energy; therefore, she can go into your energy field and help you remove the blocks that might be stopping your success.  She can see into your body and examine any disharmony or financial problem. She also communicates with the other realm – and can help you connect with your family and friends on the other side.

She will answer questions from the audience

DATE:     December 14, 2010 — Tuesday Evening

TIME:        7-9:30  PM

PLACE:  Jasmine Creek Community Complex, off Marguerite Avenue in Corona Del Mar, 92625- (After you enter the gate, the building is directly in front of you–Parking on street)

FEE: $60.00 in advance     $70.00 at door — Space is limited due to room size

To reserve your seat: Call (949) 760-0044

–>Share this message with your friends and associates–Joan Marie would love to meet them too!


Learn more about her gifts at:

© 2010 Joan Marie Whelan, All Rights Reserved.
A Media Release form must be signed prior to first class
Notice Regarding Publication of e-mails:
"Unless you expressly state that you do not wish your e-mail to be published on websites operated by Joan Marie Companies and My Serenity House, we will assume that you wish it to be posted. We recognize how important it is to maintain privacy and security for the personal information sent to us. For this reason we do not publish e-mail addresses or any information that could identify you."