Posted by Intuition Girl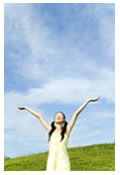 What brings you joy? Imagine if everyday you focused for a few minutes on remembering a "joyful moment". What do you think this would do for you? How do you think you would start to feel if you kept this up on a continual basis? This one simple tool alone will help you out of a great deal of stress and anxiety and of course it will definitely help keep you in balance.
What brings me great joy is when clients share with me how happy they are working with me. It is such a gift for me to hear from someone that I have helped them make major shifts in their life in less than 5 weeks. But when I encounter anxious moments, I close my eyes and see with my heart.
I was speaking with a dear friend recently and we were talking about how much "courage" it takes to clean your emotional house. I certainly agree. It is not easy to see and then release your past experiences; however, the freedom that you will gain is priceless.
As we are preparing for 2010 some of us are getting ready in a conscious deliberate way while others are just going along in life and accepting what comes our way as if we are dragging a heavy weight on our shoulders. We must make a decision– what are you doing to prepare for your life today and in the future? Remember we have free will!
Living your present moments in a joy-filled experience will heal you and I might add is one of the greatest gifts you can give to yourself. As this year is beginning to come to an end and a new decade is dawning, I hope you will take control of your emotions and choose the feelings that you want to experience.
Please read on to my two new questions this week from my readers, Heather and Samantha.
Many Blessings,
By Joan Marie the Gift, Intuition Girl
About the Author: Joan Marie Whelan, an internationally known intuitive specialist, business consultant, medium, and coach travels throughout the United States sharing her gifts and the Manifestation Method with solo-preneurs, professionals, small business owners, and large companies , please go to:www.joanmariewhelan.com
2 Responses to "Are your emotions running your life?"
north face london Says:
December 16th, 2014 at 7:05 pm

Are your emotions running your life? | Intuition Girl
north face london
[url=http://www.inetworksffs.com/]north face london[/url]

converse france Says:
December 19th, 2014 at 7:13 pm

Are your emotions running your life? | Intuition Girl
converse france
Leave a Reply