Posted by Intuition Girl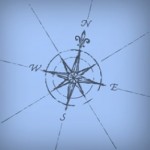 Have you ever taken a good look at a compass? It is typically round and is used as a directional guide so that you can distinguish which way is north, south, east or west. Without a compass, you could easily get lost in the elements.
Generally, you have an idea of where you have to go and memorization habitually lets you find your way to the store, to work, to the gas station, and even simple places like the bathroom or living room in your house. Your directional compass aids you in locating various spots all around you.
But you also have an internal compass that acts as your intuition; your inner steering wheel, which guides your conscious and sub-conscious moves in your life. How does it work, you ask? Similar to your memory compass, your intuitive compass compels you to act or react in certain situations. For instance, if an opportunity or challenge presents itself to you, your inner compass will guide you to respond in one way or another. If you have finely-tuned your intuition through meditation and other mind training, your inner compass is ultimately going to lead you in the appropriate direction. So, if a sudden job prospect opens up to you (among other potentialities) you will be both mentally and emotionally prepared to step up to the challenge; or in some cases, stay the course. How would you respond at this moment, for instance, if a friend knocked on your door and asked you if you're ready to take on a better position at his company? Or, what if the object of your desires suddenly approaches you with a proposal of love? Are you ready to be responsible for what it is you truly want?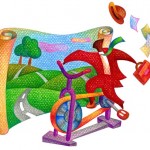 Let's go a bit deeper…what if I told you that you may have been living an illusion? In truth, most of us have constructed an illusion to disguise our authentic self, our authentic being, the truth of who we are –after all, it is easier to put on a veil to cover up our bottled emotions, our fears, our sorrows and our regrets, among others. But as you begin to unlock your hidden power of your inner compass, you begin to enable your intuition to lay the groundwork for you so that you can set the foundation for your authentic success.
Think of it this way: if you can train your mind to memorize the places that you visit day in and day out without fail, imagine how well you can set the coordinates for your inner compass to generate and attract love, happiness, health, wealth and prosperity! Now is the perfect time for you to set your inner compass to the field that you can magnify the most: your success.
This coming February, invest in yourself and give yourself the gift of a professional education to Follow your Inner Compass, a five-month interactive mastery program with Certified Master Intuitive, Joan Marie Whelan! If you feel that a program like this will serve you to advance your goals, please click on the following link and learn more about it: http://www.joanmariewhelan.com/innercompass/
I will also be offering a free teleclass on January 11, 2010 to discuss this forthcoming program. Register Here! I would love to meet with you!
Your Intuition is your Inner Compass
By Joan Marie Whelan
Copyright – All Rights Reserved
Learn more about Psychic Medium Joan Marie Whelan – Intuition Counselor and Intuition Coaching Specialist