Posted by Intuition Girl
Dear Joan Marie,
I have seen my "Dream Job", but this is not a position you can train/plan for…It will be obtained thru networking and Divine timing.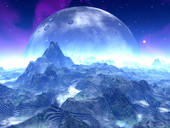 I am continually preparing myself/my life, so I will be ready when the breakthrough come and opens the door of opportunity. I will walk thru with grace, confidence, and pride. My question is…When/where will this opportunity occur?
Any insight you can give me is most graciously appreciated. I have been working for years developing my intuition, the gift GOD has given to all. May GOD bless you with happiness, good health, and prosperity all the days of your life…….
Most Respectfully,
Marilyn from Texas
ANSWER
Dear Marilyn:
You are truly blessed to have "seen" a vision of your destiny.  Please do not stop there!  It is your job to clear away any and all debris from the past and prepare to create the space for internal energy to open your heart to receive.  The timing is always that of the Divine and it will happen when you are truly ready.  You must feel it and own it internally and begin creating your life now—in the present moment.  Think and visualize that you have arrived at your destination.  Do not wait!   Begin today implementing and creating what you can so that you are prepared to fulfill your destiny.
Many Blessings,
Joan Marie the gift Intuition girl
Joan Marie is an Intuition Master, Business Intuitive Expert, an International Medium, Energy Healer and Past/ Present Life Regression Expert. By utilizing her special gifts, she teaches, inspires and shows people how to take responsibility for where they are today.
Joan Marie the gift also offers FREE audio coaching, FREE articles, workshops, coaching, and other resources to help individuals like you – entrepreneurs, small business owners, home makers, coaches, spiritualists and all those who want to "Create an extraordinary way to live, work and play."
Learn more at www.JoanMarieWhelan.com
Leave a Reply