Posted by Intuition Girl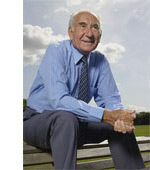 Dear Joan Marie,
I am an older man who is now living with one of my children and I don't feel happy. Not because I live with my children yet I do not know why I feel this way. I have always been an up beat person but now I lack enthusiasm and passion for living.
I want to feel self-satisfaction in knowing that I can contribute and be worthwhile but some how I don't. I hear that you have helped many people and I was hoping that you could help me also.
Thank you for your time.
Samuel J.
ANSWER:
Hi Samuel:
My feeling is you are loosing your own self –image and purpose. I realize you are living with one of your children; however, it is important for you to have your own sense of identity. What are you doing for yourself? Do you get out and interact with other people besides your family? More importantly you need to explore a hobby that will satisfy your soul. Having a loving family is a great gift but it is important that we do not become so dependent on each other that we forget to live for our own sake. I suggest that you do not sacrifice our own hearts desires and experience the joy of being you.
Your energy is being squashed and depleted because you are not allowing yourself to continue to play full out in life and be the truth of whom you really are.
Many Blessings,
Joan Marie the gift,
Intuition Girl
About the Author: Joan Marie Whelan, an internationally known intuitive specialist, business consultant, medium, and coach travels throughout the United States sharing her gifts and the Manifestation Method with solo-preneurs, professionals, small business owners, and large companies
MARK YOUR CALENDARS for September 14, 2009 for a rare, transformational opportunity to speak one-on-one with renowned Intuition Master, Joan Marie Whelan. Come share in the excitement of Joan Marie's FREE abundance discovery teleclass, which promises to give you a taste of what is to come in her upcoming Strategy Action Recovery Program – designed only for those of you who truly want to become leaders in the art of manifesting wealth, health, and prosperity in every aspect of life.
One Response to "Get your Passion back for living"
What is your story? | Intuition Girl Says:
August 31st, 2009 at 6:55 am

[...] with Joan Straight Talk with the Intuition Girl: Questions and AnswersWhat is your story?Get your Passion back for livingAre you blocking your financial freedom and wealth?Pets, Bonds and KarmaChallenges in [...]
Leave a Reply