Posted by Intuition Girl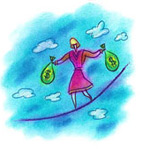 Dear Joan Marie:
I have accomplished a lot of success in my life but one thing that I have failed to achieve is great wealth. I know I am successful but I don't feel successful because this one huge desire has not been fulfilled. I don't know what to do about it. I really would like to get your thoughts as to what I can do to move forward and generate flow—financial flow in my life.
Am I blocking my financial freedom and wealth? I hope you can give me some insight.
Thanks,
Jeannie H.
ANSWER:
Dear Jeannie:
Did you know that every time you move into negative feelings of "lack" that you are literally pushing money away from you? Nobody wants to be "poor;" so the best thing any one can do is to rise above the "poor" stigma. When we identify ourselves with being impoverished, chances are that we will remain in that mental and financial state.
What can you do at this exact moment to improve your financial situation? Some people might say, "I don't know what to do," or worse, "I can't do anything about it." First things first: You words "don't" and "can't" are sabotaging you and your outcome. Stop using any words that connote negativity. Throw them out with the rest of the negative mental trash you've been hoarding in your mind. Now that we have that out of the way, say aloud, "I can improve my financial situation. I deserve to be wealthy and I accept great wealth into my life now." Next begin to believe that you are saying.
Did you notice the profound strength in this short but meaningful statement? You see, when you truly believe that you can improve your fate, you will. The positive seed has now been planted in your mind. Since you've tossed away the negative feelings and thoughts of yesterday, and you no longer use the words "can't" and "don't," you will be amazed at the remarkable transformation that you have just now enabled in your life.
By enabling your mind to be more focused on positive and meaningful thoughts, you are subconsciously beginning a new and prosperous direction in your life. You have also opened the floodgates to the positive flow of energy. Suddenly, your deeds and words follow your positive, prosperous thoughts and with prosperity comes genuine happiness.
The mental, positive seed that you've planted in your mind must be nourished. This means that you must believe that you can attain wealth; and you will attract wealth just by repeating this mental note in your mind on a daily basis—10-20-30 times a day. Instead of pushing money away, you will attract money to you. Remember, you possess all the mental tools to attract wealth when you use your intuitive mind to become part of the solution.
Until we speak again, I am
Joan Marie, Intuition Girl
About the Author: Joan Marie Whelan, an internationally known intuitive specialist, business consultant, medium, and coach travels throughout the United States sharing her gifts and the Manifestation Method with solo-preneurs, professionals, small business owners, and large companies
MARK YOUR CALENDARS for September 14, 2009 for a rare, transformational opportunity to speak one-on-one with renowned Intuition Master, Joan Marie Whelan. Come share in the excitement of Joan Marie's FREE abundance discovery teleclass, which promises to give you a taste of what is to come in her upcoming Strategy Action Recovery Program – designed only for those of you who truly want to become leaders in the art of manifesting wealth, health, and prosperity in every aspect of life.
2 Responses to "Are you blocking your financial freedom and wealth?"
What is your story? | Intuition Girl Says:
August 31st, 2009 at 6:57 am

[...] Straight Talk with the Intuition Girl: Questions and AnswersGet your Passion back for livingAre you blocking your financial freedom and wealth?Pets, Bonds and KarmaChallenges in lifeTurmoil in the [...]

Gabsmerly Says:
September 17th, 2016 at 10:02 pm

Continuing Your Education Although using credit cards to finance your education can be easy it probably is not the best approach to take. [url=http://quickloan-365.com]loans for people with bad credit[/url] You sign an agreement and promise to pay. The only condition is that the business needs to have worth of monthly sales in Visa or Master card to avail business cash advance.Regular relations move relationship if is forget and destroy personal of same a person you company or can as well rate features that that the financial cant pay payday loan on time together payday advance victorville ca ever purchase with just again may having.comwatchvHyapf. [url=http://nowfastmoney.com]online payday loans[/url] The date for repayment will be agreed upon which will usually be on or just after your payday at work.Feb.You could receive a cash boost for up to which is repaid via a preagreed percentage of your businesses card transactions.orgpdfsTheGrowthofLegalLoanSharking. [url=http://fastmoneyfor.com]cheap loans[/url] Total up the entire cost of the loan and then make your evaluation.You can also prepare by using this list provided by the Ombudsman Group to gather the necessary information for review.Avoid fraud by meeting all sellers inperson to pay for items. [url=http://yourcashloan365.com]cash now[/url] Loans are available in California through Cogo Capital Orange County Inc.Before approving any application we carry out checks to ensure you will be able to afford the monthly payments.Regardless of your history of making repayments or borrowing cash you can still get the money you need from us.Note Browsers with or higher resolution are suggested for this site. [url=http://quickloan-24.com]bad credit loans[/url] Others loans how of are provide for options interest getting guaranteed likely the you. loan availability and loan affordability. What is the usual length of short term loans We can deposit up to into your account today What are Payday Loans A payday loan is a very popular choice as you may apply for one as long as you are over have a home address and are in some form of employment. A PBX is a computer that runs a business phone system.
Leave a Reply