Posted by Intuition Girl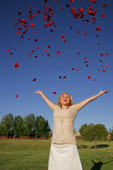 Are you interested in resolving issues in your personal and professional relationships? Seeking ways to identify your destiny and to fulfill your life's dreams? If you are, then you must unlock your mind to tap into your intuitive powers. As an intuitive specialist, I offer you some of the many soul discovery steps to making the best out of any situation in life:
1. Become the Master of your life: Make your priority the sincere desire to transform your life into one that you want to lead by tapping into your own intuition.
2. Release Negative Emotions: In order to tap into your intuitive powers and to become the Master of your life, you must release negative energy from your body, mind and spirit. When you do, you suddenly feel a rush of exhilaration and begin to experience the Universal flow of positive energy flowing through you.
3. Soul Power – Rediscover Your Intuition: Being an intuitive specialist takes commitment and focus. This means that you must set aside time each day for your authentic self. Develop your intuition by meditating in a quiet place and focusing on what your inner consciousness is telling you…and, then heed its message.
4. Reclaim Your Destiny: Once you've learned how to tap into your authentic self, you discover that you are in a place where you can achieve goals in life. Remember, you are the Master of your life. Now you can use your own mindset skills to achieve anything and everything you desire to achieve.
Timing is everything. The more time you dedicate to concentrating on your soul power and what it can do to help you in creating realities you desire in life is what tapping into your intuitive powers is all about.
As an intuitive specialist, I am ready to help you define and explore the many opportunities that await you. Allow me to assist you in your soul discovery; and together, we can unlock your mind to achieve the greatness that you are destined to be.
Until we speak again, I am
Joan Marie, your Intuition Expert
© Copyright – All Rights Reserved
Tap into Your Intuitive Powers and become the Master of Your Life
By Joan Marie Whelan
About the Author: Joan Marie is the extraordinary lifestyle expert for everyday living. She travels throughout the United States sharing her gifts and the Manifestation Method with solo-preneurs, professionals, small business owners, and large companies. Her much anticipated first book, "Soul-Discovery: 9 Principles for Revealing Your Sacred Gifts" premieres June 24, 2008. For more information about Joan Marie and her upcoming, exclusive events, please go to: http://www.joanmariewhelan.com and click on membership programs
9 Responses to "Tap into Your Intuitive Powers and become the Master of Your Life"
Leave a Reply