Posted by Intuition Girl
Warning
: trim() expects parameter 1 to be string, array given in
/home/intuit/public_html/wp-content/plugins/flash-video-player/flash-video-player.php
on line
181
Get the Flash Player to see this content.
An inspirational message is sent to give you a deeper insight into life's purpose as it also instills some meaning and awareness. Allow this Monday Morning Message sent at the beginning of the week to help set the pace for the next six days in a way that inspires and invites reflection.
To sign up for my weekly Inspirational Messages you can fill out the form on the right hand side of my site.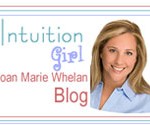 Learn more about Psychic Medium Joan Marie Whelan – Intuition Counselor and Intuition Coaching Specialist
One Response to "Inspirational Message: Being in your heart"
cheap car insurance quotes Says:
January 30th, 2014 at 12:41 pm

Hello, how are things? I just now shared this page with a colleague, we'd a quality giggle.
Leave a Reply