Posted by Intuition Girl

We all have birthdays, but have you had your annual "Birth Day"? What I mean by that, is have you set aside a day in the week, month or year that is your day to get reacquainted with yourself, your Inner Child? Birthdays are something we all share in common and are often celebrated among friends and family so they do not leave much room for "me time". I want you to give yourself a "birth day" — does not matter which day you decide to have it (the sooner, the better of course) — and own that day for yourself.
Use this day as a time when you can recollect your thoughts and aspirations — and rejoin the living. I'm already alive, you say? Are you really? Being alive and living day in and day out are two different things altogether. When you awaken yourself to a renewed sense of purpose and drive, you are living "alive" and not simply going through the motions. That is what having a birth day is all about. It gives you the momentum to create and fulfill the dreams that your heart and Soul Being desire.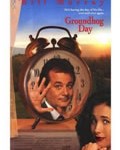 Do any of you remember the film, "Groundhog Day", starring Bill Murray? Murray plays a disgruntled weatherman who to his dismay, replicates Groundhog Day over and over again until he is forced to revisit his life and the things that matter the most in his life. Obviously not too many people would want that to happen in their own lives. However, it is usually when we are forced to come face to face with ourselves that we begin to realize who we actually are and what we need to do to transform ourselves. It is much easier when we reserve a special day to do just that.
Do not wait for that instance when you are suddenly hit with a backlash of emotions; because these subdued energies can take you out if you let them. Make your "Birth Day" one of awakening… a time to reflect on the importance of you, who you are and how far you have come. Get in touch with your Inner Child… feed your Inner Child with love, compassion and understanding. Hold that Inner Child and let it know that together, you can overcome all things great and small. The end result is the opportunity for you to grow in all of your relationships – financially, personally, professionally, family, friends, spiritually, emotionally. Remember, one energy relies on another to keep you alive, happy and sound in life
Joan Marie, your Intuition Girl
© Copyright – All Rights Reserved
LisWhat's in a Birth Day?
By Joan Marie the Gift, Intuition Girl
About the Author: Joan Marie is the extraordinary lifestyle expert for everyday living. She travels throughout the United States sharing her gifts and her Lifestyle Makeover Programs with solo-preneurs, professionals, small business owners, and large companies. Her Manifestation Method Program and Lifestyle Makeover Programs are designed to help people change their lives. For more information about Joan Marie and her upcoming, exclusive events, please go to: www.joanmariethegift.com
Learn more about Certified Master Intuitive Joan Marie Whelan –Intuitive Counseling and Intuition Coaching Specialist
Leave a Reply