Posted by Intuition Girl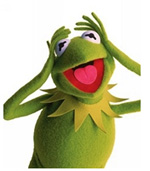 There is a song often sung by Kermit the Frog on the popular children's network, Sesame Street, "It's not easy being green." It is one of those simple songs that is often passed off as a child's melody, but in actuality, it teaches you a useful lesson in self-confidence. In the lyrics, Kermit initially talks about how it is not easy being green and how he might rather be more colorful so he could stand out among the crowd. But as the tune progresses, he realizes that he does not have to limit himself to what he is, because, "…I am green and it'll do fine, it's beautiful and I think it's what I want to be." All too often, you can easily get caught up in your self-imposed limitations:
"I would love to be successful but I keep falling into dead-end jobs,"
"I hate my job but I don't know anything else except assembly line work,"
"I would love to be rich but I never have the time or resources to go back to school,"
"I hate being lonely but I can't be in a steady relationship because work is just too busy,"
"I hate being everyone's doormat but I just can't say no;"
"But…but…but…"
Remind you of anyone you know? If you are the king or queen of excuses, then you need to learn how to grow into your extraordinary self.
If you are quite content with the life you have then that is perfectly fine. This means that you are already living in your extraordinary self, and you enjoy happiness and contentment. But if you are like so many who want to get more out of life, are unhappy with your current lifestyle, or if you simply just want to feel like you are fulfilling your life purpose, then this article is for you. Like Kermit, becoming extraordinary is right there within your reach. You must practice self-realization and self-actualization.
There is more to life than what you have, and you can achieve wealth, prosperity, health and happiness when you are ready to start receiving blessings in your life. No, it will not happen overnight. In fact, any success takes self-confidence, commitment and willingness to be open to new challenges to bring you where you need and want to be. Does it mean that I am going to have to work harder, you ask? You bet your bottom dollar you are going to have to work harder. But you will also need to learn how to work smarter. No end goal falls into your lap just because you desire it to do so. If you want a better job, you will have to network and apply yourself and any resources you have to attain it. If you want a loving relationship, you must set aside time to meet that special someone and make it happen. If you want to switch careers, you must seek training and educational opportunities so you can achieve career change.
If you find that your life is becoming a cycle of endless repetition, the problem is you. You reap what you sew…you attract the fruits of your labor. But remember this, the same holds true for those of you who are working harder and smarter to achieve prosperity and happiness. You too, will attract the fruits of your labor. Before you know it, you will be whistling, "It's not easy being green," with the realization that nothing is impossible once you step into yourself and understand that your extraordinary self has been there all along.
9 Responses to "Growing into your Extraordinary Self"
Leave a Reply