Posted by Intuition Girl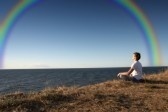 In first chapter of the book, Soul-Discovery: The Nine Principles to Reveal Your Sacred Gifts, I talk about how your "authentic self" can be realized when you acknowledge the burning desire in your soul. Many times, your innate wisdom and drive are desperately trying to be awakened deep from the core of your inner being; which inevitably empowers you to reach the greatness that you are supposed to achieve in life.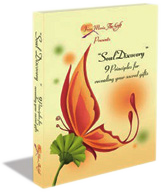 When you release your emotional burdens of the past, you begin to see the clarity in your life with a new sense of vision. Suddenly, the negative environment in which you once dwelled becomes a portal of perpetual success that attracts positive and new goals for the present and in the future.
Remember: "Time spent in silence with your authentic self is another requirement; a major ingredient but one that when acknowledged and accepted, is vital for self-fulfillment."
To heal yourself emotionally, spiritually, and physically, you must concentrate on all the beautiful blessings in your life. For every positive thought that you create in your mind and in your soul, you build a revitalized cell of health and inner happiness. This renewed cell spreads throughout your body as a beacon of light and wellness, which in turn, builds new, healthful cells. A matter of fact, every part of your authentic self, your sacred being flows throughout you with the Divine power – the Source of your very existence. You can begin getting to know your sacred and authentic self by starting a personal journal; and learning how to take each day as a gift — a gift that offers new opportunity, a renewed sense of joy and hope, and yet another reason to embrace the grand adventure we call life.
Until we speak again,
Joan Marie, Intuition Girl
© Copyright – All Rights Reserved
Developing Your Authentic Self
By Joan Marie Whelan
About the Author: Joan Marie is the extraordinary lifestyle expert for everyday living. She travels throughout the United States sharing her gifts and the Manifestation Method with solo-preneurs, professionals, small business owners, and large companies. Her much anticipated first book, "Soul-Discovery: The Nine Principles to Reveal Your Sacred Gifts" premieres June 24, 2008. For more information about Joan Marie and her upcoming, exclusive events, please go to: http://www.joanmariewhelan.com and click on membership programs.
Leave a Reply