Posted by Intuition Girl
Joan Marie,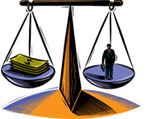 I bought your Manifestation Method Program and I really love listening to and working with it.  It is helping me a great deal.  I have actually increased my salary many times over.  The one thing I am still having trouble with is understanding my own value.
Can you please explain deeper what do you mean to value yourself?
Thank you for all that you do!
Suzy P.
NY, NY
Answer
Dear Suzy,
Thank you for listening to and investing in the Manifestation Method Program.  I am delighted to hear that it has helped you grow in many ways.
To answer your question, in order to truly value yourself you first must understand your own worth.   It is so important for you to appreciate who you truly are and what experiences you would like to bring into your life.  Do you believe that you are a good person?  Do you believe that you are here living and adding value to others' lives?  Are you taking care of you?  Do you respect and love you and can you stand and walk tall feeling your power and strength?
We all want to help others and tell others how they can remove the pain or discomfort in their lives but before we can truly help someone else grow and live in peace and harmony, we must make sure we are integrating all of our stuff and living the life that will bring us that same peace and harmony.  Most people have a lot of baggage—pain and discomfort that we are carrying around in our hearts and on our back.  By doing your own work, going within and getting to the root of your emotional blocks—your pain, you will begin to heal and when you begin to heal you will, at the same time, begin to accept all those pieces that make up your whole being.
Do you believe you are worthy enough to receive your hearts desires?  An important point for each one of us to remember is we must be in alignment with all of ourselves—with our mind, body and soul.  When that happens, we become the vessel through which the Universe can operate and bless us.  As I have mentioned so often, do the mirror exercise.  Look in the mirror at your image and hold a conversation with self.  Ask yourself the questions that I stated above.  That is a powerful exercise and one that will help you come to a better understanding and appreciation of yourself and what you value.  When you accept all of you and love you just the way you are, you are loving and valuing all of  you at the same time.
It sounds to me that you have made great strides with your life and this last piece will bring you to greater awareness.  Congratulations on your success.
Many Blessings,
Joan Marie, Intuition Girl
About the Author: Joan Marie Whelan, an internationally known intuitive specialist, business consultant, medium, and coach travels throughout the United States sharing her gifts and the Manifestation Method with solo-preneurs, professionals, small business owners, and large companies, please go to:www.joanmariewhelan.com