Posted by Intuition Girl
Dear Joan

I am a natural psychic. I started developing my gift when I joined a circle at college in 2001. I showed immediate potential. And I was soon offering mediumistic readings to friends of friends, able to give names and fine details. Over the years thought I have felt more and more disconnected, past year and past few months have seemed to become more and more frustrating for me. I just feel like I am blocked to my true potential, it's like what I used to be able to do is just a dream now.

I know this happens to other very good psychics; hey I have helped some get back in their power again! Even my very respected teacher had her bad patches, if it's just the way it is, what does one do professionally and reading wise to retain full integrity? Just stop reading for people?

If you could assist in any way, that would be a blessing,

Very confused!

Jamie
Hi Jamie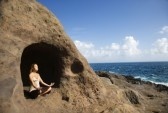 This is a very powerful question. It is my belief that the gift never leaves you but that you push the gifts away. I feel that what has really happened is that your talents and or gifts have been covered up by some emotional blockage that needs to be released. Possibly you have not done your work! By that I mean that you have stopped doing your grounding work, your meditation work and staying focused and balanced in who you are and what you choose to accomplish.
You still have the abilities; you simply have forgotten how to utilize them. You are no longer a clear vessel who is open to hear the messages and be the medium between the two worlds that you once were.
The truth is, you are still a psychic, however you have allowed emotional blockages, insecurity, unworthiness and fear to come into your field and that has blinded you from going to a far greater place with your gifts.
I am very grateful to say that I have never been without my gift, but I am constantly doing my work so that I stay grounded, clear and focused. All of my products specialize in grounding, clearing and healing work to open you up to a far greater level of awakening your intuition.
Fright is preventing you from going to your next level. "How to tap into your intuitive powers" is also an extremely valuable program that you should look into. You can go to the site of www.joanmariewhelan.com and examine this product. I believe it will help bring you back on track.
I hope that helps,
2 Responses to "Reconnecting with your abilities"
thepiratebay proxy Says:
November 24th, 2014 at 11:08 am

The VPN itself also works to improve your online security
by tunneling and encrypting your data. For example as soon as the verdict IFPI demanded
that Swedish internet service providers block
The Pirate Bay. Chromebooks are touted to become the simplest computers
available today.

The Pirate Bay Says:
April 11th, 2015 at 7:49 pm

However, with Zhang Ziyi inside film and actual life, the
less appropriate, its image did start to decline, starring Zhang Ziyi of "geisha", because the
film's plot touches some sensitive Sino-Japanese sentiments among led to dissatisfaction users.
You can certainly spend a little bit more money and outsource your recovery must a data center, however, you should ensure that this expense is leaner than the money
that you will lose during recovery operations on-site.
Torrents can be a much quicker plus much more convenient
technique of downloading online, and Seedbox will be the perfect means to fix get torrents downloaded or uploaded for sharing of your respective own.
Leave a Reply