Posted by Intuition Girl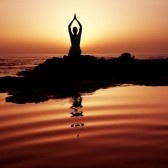 "Can you set time aside for you to look in the mirror and enjoy the experience and magic that is waiting to unfold?" In my book, Soul-Discovery: The Nine Principles to Reveal Your Sacred Gifts, the process of awakening your sacred self is revealed to you through a few simple steps; allowing you to fully access your potential and the gifts that await you.
What gifts? Life is full of experiences waiting to be embraced. When you have the clarity and an open heart to receive the blessings that lie before you, you discover that the Higher Power of your sacred self is ready to assist you whenever you ask.
How do I facilitate my sacred self? First, you must make a strong commitment to yourself and set a few moments aside to meditate in silence, or listen to your favorite meditation CD. While you do, rid your mind of all negativity. Visualize a virtual trash bin, and discard all the garbage in your mind. When you've completely emptied your thoughts from the business of your life, focus on the nature that surrounds you — and if you aren't outside, find something to hone in on like a dimly-lit candle, a plant, or maybe just a good book of poetry.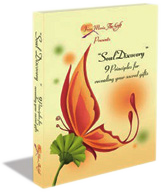 You must spend "alone time" with your sacred self so you can acquire a sense of your footing, and to "welcome the unknown into your world." Close your eyes and feel the all-empowering love of the Great Divine flow through every part of your living body, every cell and every breath…ah, now breathe deeply as if you were gaining your first breath of fresh Spring air — now open your eyes. Without any reservations, ask the Higher Power to help you find what it is you are searching for in life. Ask how to discover the passion that will help you to create the destiny that you so desire.
Because you have awakened your inner consciousness, you are suddenly more aware and more tuned into your sacred self; and the answers that were slow in coming in the past, are now within your mind's eye…and within your reach. You see, the vision that you gain through your sacred self is not only your intuitive consciousness, but your inner guide to fulfilling your destiny.
Until we speak again,
Joan Marie, Intuition Girl
© Copyright – All Rights Reserved
Fulfill Your Destiny with Your Sacred Self
By Joan Marie Whelan
About the Author: Joan Marie is the extraordinary lifestyle expert for everyday living. She travels throughout the United States sharing her gifts and the Manifestation Method with solo-preneurs, professionals, small business owners, and large companies. Her much anticipated first book, "Soul-Discovery: The Nine Principles to Reveal Your Sacred Gifts" premieres June 24, 2008. For more information about Joan Marie and her upcoming, exclusive events, please go to: http://www.joanmariewhelan.com and click on membership programs.
3 Responses to "Fulfill Your Destiny with Your Sacred Self"
Robb Sloan Says:
November 12th, 2008 at 3:12 pm

0qlt4vnj5t2lwyoq

Elmer Melland Says:
July 14th, 2011 at 2:39 am

This article is fantastic, unfortunately but for some reason i can't open your post on explorer, thats why i had to use a different browser.

Social Valley Says:
August 8th, 2014 at 2:05 pm

Greetings,

Subscribe with us and get 5,000 Facebook Fan Page Likes every month!
We will promote your Facebook Fan Page throughout Social
Media. We can get you thousands of Facebook Fan Page Likes. Having thousands of Likes will get you customers to your business
and possibly some sales and transactions to your business.
You have nothing to lose. Just exposure to people around the world.

Visit us:
http://Social-Valley.org
Leave a Reply