Posted by Intuition Girl
Are you one of those individuals who feels stuck in a job? Or maybe you feel like you are not leading the life you want? Sometimes, when you feel out of place, you may actually be right where you are supposed to be. All things happen for a reason and often times, for your greater purpose in life. Allow me to elaborate: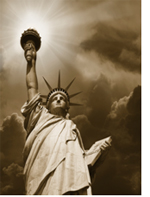 Recently, a dear friend told me a story about her neighbor (we'll call him "Barry") she had in Florida: As fate would have it, Barry was a Cuban immigrant, who came to New York City with his life's savings during the 1970s to make a new life for himself, his wife and his young children. As a foreigner trying to earn a decent wage in the "land of opportunity", he knew he had to provide for his young family but jobs were scarce – especially for immigrants from a foreign country. His first goal was to attain his U.S. citizenship. Barry and his wife studied for many hours. After passing their exams, Barry traveled all around Queens seeking employment. Almost penniless and near desperation, a cosmetic sales company finally gave Barry an opportunity to prove himself as a door-to-door salesman.
A lone woman trying to sell cosmetics door-to-door was difficult enough, but a man trying to sell them was much more challenging. How could a man possibly know what a woman wanted or what her cosmetic needs were? Initially, women were quite timid to open doors to a strange young man with a cosmetic bag looped over his shoulder. What was he thinking? Day after day, he returned home yielding no successful results. This was definitely not what he had in mind. How was he going to convince his female neighbors that he was an honest, hard-working man? He was at his rope's end. Besides this cosmetic sales company, it seemed that no one wanted to hire this Cuban immigrant; alas, he was going to be stuck in this fruitless job forever. It was then that Barry realized that it was time to sink or swim. He had to become more creative to demonstrate to others who he was and what he was doing so that he could start selling his cosmetics.
Taking some of his last savings, Barry created and distributed unique flyers offering to do a cosmetic demonstration with his wife at his home. At first, only a few potential clients came to his house. But knowing that he had to do the best he could with what he had to offer, he gave an exciting presentation and made quite a few sales. Word of mouth traveled fast, and before he could even schedule another home demonstration, neighborhood women began calling him for private home-showings. Suddenly, he had so many cosmetic sales that he couldn't keep up with the demand. Who would've thought that a Cuban immigrant could become one of the top salespeople in the region?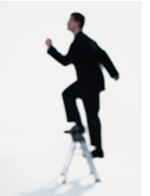 Long story short, Barry earned such a lucrative income from his cosmetic sales that it afforded him the opportunity to not only supply a comfortable living for him and his family, but the chance to go to school to earn an engineering degree. At long last, he earned a managerial engineering career in a local governmental agency. His wife became a home proofreader for a book publisher… and his kids? They went onto college, becoming professional American businessmen and women.
This story reminds you that even if you are a dishwasher, you need to be the best dishwasher you can be. If you are a floor sweeper, you must be the best at cleaning floors. Whatever the job you have, be the best you can be so that you can open doors to new and improved opportunities for yourself. If you give up before you even try, you have already lost the battle. Learn to be more creative, find ways to be more unique, be the greatest in everything you do. And in the end, you may just find yourself becoming the success you are destined to be.
Joan Marie – your Intuition Girl
Something tells me I'm into something good — 2013
By Joan Marie the Gift, Intuition Girl
One Response to "Something tells me I'm into something good"
cars Says:
May 29th, 2013 at 10:43 am

It should be fun to buy a new car! Driving a new car is such a great experience, and
purchasing the car should be fun as well. A lot of people would
rather skip the whole purchasing process. Keep the stress to a minimum using these
tips.
Leave a Reply