Posted by Intuition Girl
Hi Joan Marie,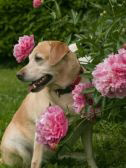 I recently had to make the decision to put my dog to sleep. Is that Okay with karma and how do animals feel about you doing this?
I am a big fan of yours and love all the work you do.
Tyra- Ohio
Answer
Dear Tyra,
This is a wonderful question and yes many of us have been where you are. I want to help you release your anxiety over your decision— it is perfectly fine and humane When an animal becomes very ill and can not function in a healthy manner they begin to suffer, that is when it is only fair to the pet to do what is best. I feel that the animal knows in their soul that this is going to happen and are at peace with your decision.
Animals are here for all of us to experience and share in their unconditional love. They are a gift to us as beautiful friendships are formed and nurtured. Your pet and you built a bond and a trust with one another that is lasting so believe that your pet trusts you to do what is best for him/her.
Our animals are around us often after they pass. My dog has been gone for twenty years and recently I started seeing her visiting me in my NY apartment. They never leave us and are always ready to shower us with love and comfort.
Rest in peace with your decision.
Many Blessings,
Joan Marie the gift
Intuition girl
About the Author: Joan Marie Whelan, an internationally known intuitive specialist, business consultant, medium, and coach travels throughout the United
States sharing her gifts and the Manifestation Method with solo-preneurs, professionals, small business owners, and large companies, please go to:www.joanmariewhelan.com
3 Responses to "Pets, Bonds and Karma"
Akata Says:
April 11th, 2014 at 5:15 pm

I've been browsing onnlie more than three hours today, yet I never found any interesting article like yours. It is pretty worth enough for me. In my view, if all site owners and bloggers made good content as you did, the web will be a lot more useful than ever before.

Nolan Says:
September 22nd, 2014 at 9:56 pm

I'm сurіоսs to fіnd out ѡɦɑt blօց
ρlatfօгm ʏօս'гe utіlіƶіng?
I'm hɑνіng ѕοmе mіnoг ѕеϲսгitƴ іѕsսеѕ witɦ my lɑtеѕt ѕіtе and ӏ'd lіƙе tο fіnd sοmеthіng mοrе ѕafе.
Ɗο уοս Һаvе any ѕοlutіօns?

Yusuf Says:
March 2nd, 2015 at 3:14 am

Just want to say your article is as astnondiug. The clarity for your post is simply spectacular and that i could think you're knowledgeable in this subject. Well together with your permission allow me to snatch your RSS feed to stay up to date with imminent post. Thank you a million and please continue the gratifying work.
Leave a Reply