Posted by Intuition Girl
Joan Marie,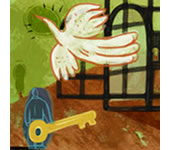 Your recent article about experiencing death and rebirth on a continual basis makes a lot of sense.  I am continually working on letting go of defensiveness.
Do you have any ideas of what would be a good thing to think when a defensive thought enters my head?
Thanks a bunch and thanks for your newsletters!
Warmly,
Sandy Anthony

Answer
Hi Sandy,
I am so glad you are reading the articles and taking them to heart.  They are written to serve as a great tool to assist you on your journey.  Your question is powerful!  What you are becoming aware of whether you realize it or not is that your ego mind is trying to keep you in a place of stagnation and control.
When we feel as though we need to defend ourselves, our ego mind is working double time and is attempting to have you make a judgment call, which means that we must be right and someone else must be wrong.  It is almost implying that we might be better than someone else or knows more than someone else.  This is clearly the ego trying to prevent us from going within to our own emotions and see what is really going on.
What you first need to look at is why are you being defensive?  I would encourage you to feel into the emotions– being defensive and go beneath that energy so you can discover what is hiding there?  This can actually be a good sign for you as well because you just might be on the verge of a breakthrough and preparing to peel off another layer of debris.
Again, the best thing for you to do is to look at what emotions are laying beneath this attitude in you.  Are you feeling less than or feeling like there is lack as if someone else is achieving something and you are not?  Do not make this a right or wrong process—instead self-observe and see if this is simply good food for though.
Thank you for your question.
Many Blessings,
Joan Marie Whelan
© Copyright – All Rights Reserved
By Joan Marie the Gift, Intuition Girl
About the Author: Joan Marie Whelan, an internationally known intuitive specialist, business consultant, medium, and coach travels throughout the United States sharing her gifts and the Manifestation Method with solo-preneurs, professionals, small business owners, and large companies , please go to:www.joanmariewhelan.com
One Response to "letting go of defensiveness"
Lesturgeste Says:
April 22nd, 2015 at 5:56 am

price of levitra [url=http://fastshiplevitra.com]brandlevitra on line[/url] levitra after expiry dateviagra psychological ed [url=http://fast-sildenafil.com]generic viagra 100mg next day[/url] viagra jet lagbuy online com phentermine viagra [url=http://newmedicforum.com]Buy Priligy Online[/url] cheap authentic viagracialis after prostatectomy [url=http://fastshipcialis.com]cheap drugs[/url] cialis professional genericaccutane side effects years after use [url=http://fast-isotretinoin.com]10mg of accutane for cheap[/url] accutane issues hair warning signs
Leave a Reply