Posted by Intuition Girl
Dear Joan Marie: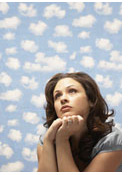 I have a powerful mind that likes to daydream often on things that will not help me in my life.  I guess I spend too much time watching TV and getting caught up in other people's lives instead of paying attention to my own life.
How can you help me take control back of my mind?
I love what you are doing- thank you,
Joanna Peterson
CA

Answer:
Dear Joanna:
This question can help so many of us who have run away minds.  The first question you want to address is: "Do you need to escape to another movie or world that satisfies you more than your own evolution and growth?  I believe that is the real issue. If you are not content to focus on you, your present moment and pay attention to your life and goals and what you want to create then I wonder if you are feeling loved and happy?
Secondly, what are you running from?  What is really sitting inside of you that you need to address but you are avoiding at all costs?
It appears as though you,  like so many of us, have developed a bad habit.  You need to re-train your mind and remind yourself who is really in charge of you—your life and your success.  Every time your mind wants to wander you need to immediately put your focus back on you and center your thoughts on what it is you want to create and manifest in your life.
Repeat to yourself often:  I place my attention on my intention—I choose to manifest_________."  Even put this statement on an index card and post it in several places.  This way every time your mind wants to wander you can draw your attention to your index card or repeat the statement and pull your mind back to center.
Every second of the day be conscious as to where your thoughts are going and you will soon realize the great rewards.
Many Blessings,
Joan Marie
Intuition girl
About the Author: Joan Marie Whelan, an internationally known intuitive specialist, business consultant, medium, and coach travels throughout the United States sharing her gifts and the Manifestation Method with solo-preneurs, professionals, small business owners, and large companies
MARK YOUR CALENDARS for September 24, 2009 for a rare, transformational opportunity to speak one-on-one with renowned Intuition Master, Joan Marie Whelan. Come share in the excitement of Joan Marie's FREE abundance discovery teleclass, which promises to give you a taste of what is to come in her upcoming Strategy Action Recovery Program – designed only for those of you who truly want to become leaders in the art of manifesting wealth, health, and prosperity in every aspect of life.
2 Responses to "Help me take control back of my mind"
No Good Deed | Bird On A Wire Says:
September 20th, 2011 at 7:13 am

[...] Now I see that going out into the testing ground of men it is the tongue and not the deed that wins…text-align: center;">Now I see that going out into the testing ground of men it is the tongue and not the deed that wins the day. ~Sophocles [...]

re: Janice Says:
October 14th, 2011 at 7:10 am

[...] to work and I think it will be Monday. I better quit this too long message to you. Hugs, Jan/IowaPlease Note: Unbiased, uncensored and independent conversations like this one are published as a cou…refer to Terms Of Use for more info. Oh Lisa, you are in a dilemma. I wish I could give you the [...]
Leave a Reply