Joan Marie's Manifestation Method Program
Designed to Change Lives ... In Just 90 Days!
What do Oprah, Michael Jordan, Joan Marie Whelan,
Tiger Woods, and Tony Robbins all have in common?
They are all at the top of their game and they all use their
intuition to help them maintain the focus required to succeed.
Newsflash! All wealthy people are intuitive, they listen to their gut, knowing when to act and when to hold off. I believe we all have that special gift, for most, it lies dormant their entire lives. When I show you how to reawaken it, your unique talents can manifest greatness into your life.
The Manifestation Method is a Strategic Vision Action Plan designed to help You obtain financial freedom in this lifetime. When you align your thoughts with the right action plan your results will explode and your wealth will begin to overflow.
One word of caution:
This program will take discipline, courage, and enthusiasm! All participants are expected to take a proactive role in their own self-development. This program is ONLY for those who truly want to create an extraordinary lifestyle.
Not to worry, if you make that personal commitment, I personally guarantee You I will give You the "HOW" as I work together with You and have fun as You become the MASTER of Your life on a daily basis.
Program Details:
This program is designed to empower you and educate you with the focus, training and accountability you need to achieve the consistent results required in the most important areas of your life. Joan Marie Whelan, the Intuitive Specialist will challenge and support you in attaining the results you desire and deserve.
Focus is power and combined with your determination, will enable you to achieve your desired results.
The Strategic Plan, is your "Pathway to Power."
The Implementation is part of our end result.
It is not based on hope or wishful thinking... it is modeled after those who have already achieved real results! Check out just some of the tools and resources you'll gain access to:

I am here to show you "How" to take action to achieve your goals.
I will empower you by holding you accountable to the commitments you make.
I will support you to take consistent action that leads to the results that challenge you.
I will teach you "How" to create momentum and speed in your business.
I will send you an "Insightful Message," delivered to your email Inbox weekly.
I will help you work on your attitudes of fear, lack and limiting beliefs.
I will help you realize that life doesn't change until YOU change.
I will provifde nine group mentoring calls with me, (each call is approx. 90 minutes with Joan Marie)
I will provide immediate download access to all mentoring calls for your convenience.
I will answer 10 emailed questions on a monthly basis.
I will provide 3 Bonus open call times to ask Joan Marie any question you that will facilitate your growth during the program.
Each Call is Held on a Tuesday (5 PM Pacific Time - 8 PM EST)
And Each Call Will Be Recorded and Link for your Easy Access
April 1, 2008
Set Yourself Up For Success
April 8 , 2008
Create and Manage Your Personal and Professional Life
April 15 , 2008
Turning Obstacles Into Big Opportunities
April 22 , 2008
Open Coaching Call-In Time
April 29, 2008
Design the Outcome You Want
May 6, 2008
Design Your Business- To Create Money
May 13, 2008
Mind Mapping – All Millionaires use this!
May 20 , 2008
Open Coaching Call_In Time
May 27 , 2008
Learn How to Use Your Own Intuition
June 3, 2008
Learn how to create an opportunity to make you millions of dollars for the rest of your life.
June 10, 2008
Strategic Visioning – Generating Universal Flow
June 17 , 2008
Open Coaching Call-In time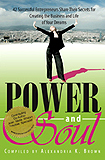 My Special Gift To You!
You will also receive a free copy of the book: "Power and Soul" in which I am a contributing Author. In this book you will discover 42 inspiring and diverse articles written by successful and empowered entrepreneurs. This is a $19.95 value, yours FREE- Only available while supplies last.
Watch a special message from
Joan Marie about this incredible program:
Are You Still Not Convinced?
"Thanks Joan. In this past week's session God channeled a miracle, through you, for me. What a difference one word, the correct one, can make. As you probably know about me I've done a lot of work on me and cleared a lot of baggage, including rejection and unworthiness issues. Up until last Tuesday I was never consciously aware of the sense of being 'unwanted' that had pervaded my life. It was the water I was swimming in. Your courage in bringing your intuition to me has allowed a very positive shift in the way I feel. I've known how to 'act' confident most of my life. Now my confidence is authentic. The confusion around what I want is gone and I can now focus on and visualize the outcomes I want. It happened in an instance. Incredible. I wish I knew someone like you 40 years ago. I could have saved a lot of money on EST, Scientology and tons of books and tapes. So far, this week I've only had thoughts of lack a few times. I'm focused on what I want most of the time and it's getting easier and better. My self-hypnosis sessions are now flowing easily and effortlessly. It's amazing how difficult they had been given my education and experience. It's just proof that the past must be cleared before suggestions have any effect. Thanks again. If we ever meet I'm going to give you the biggest hug."
-- MT
"There is magic inside each of us. The whole Manifestation Method Program teaches us to be in charge and be a leader of ourselves. That's the magic! Unlimited possibilities, that's what Joan Marie is offering." -- Karen Elizabeth
"After many private sessions with Joan Marie, I finally took the plunge and signed up for her Lifestyle Makeover Program. I am on my way to finding my soul's purpose in life on Earth. Under her tutelage, I am continuing to heal from a broken heart. There is no question that she has helped me move forward and is teaching me how to embrace my new life. She has empowered me to live again and to find a new path in life." -- Despina Terris, M.D.
"I can not tell you how appreciative I am of Joan Marie and her teachings through the Manifestation Method Program. We are in week two and I already feel such an enlightenment and a personal transformation. Joan Marie addresses my issues with a gentle, but firm guidance. She is not telling me the answers, she is showing me how to find them myself." -- Christina B.
Listen to a clip from the Manifestation Method Teleconference Call:
Give yourself permission to invest in you!
Please Note: I am offering a very special discount on the Manifestation Method price... Only until March 17th, 2008! On March 18th, 2008 the regular price will go up -- be sure not to miss this limited opportunity!
Option 1: Very Special Discount
Make a one-time payment of $1,833.33 and you'll save $167 off the regular price of $2000.33! (Only effective until 3/17/08)

Option 2: Two Payments
Make two equal payments of $1,050 each, billed in 30 day interval.
(Only effective until 3/17/08)

Option 3: Three Payments
Make three equal payments of $725 each, billed in 30 day intervals.
(Only effective until 3/17/08)

I want to help you manifest your big life dreams. How about it? Are you ready to enjoy your life as you have imagined it?
I look forward to our journey together!

Please see our Terms & Conditions if you have any questions.
You can also contact our office at (949)760-0044 or email us.