Posted by Intuition Girl
There are kind people out there in the world who want to help.  I recently read a story of a man who was robbing a convenient store.  The robber had a bat- the owner of the store had a gun.
Once the man with the bat realized he was out numbered, he put his bat down.  The owner of the store asked: "Why are you robbing me?; a great question to ask since he is the one with the gun, right?
The robber started crying hysterically and said, "I have no money for my family and we need food to feed our children." The owner of the store gave him money, food and asked him not to rob stores ever again.  Then he proceeded to ask how he could help.
How many of us have ever felt desperate, afraid and questioned what our next move was going to be?
There is always a reason why we are in the place we are in.  It does not mean it is a bad place it means this is an opportunity for us to learn and grow.
The Universe never drops us and it always take care of us. That may sound strange, but take it from me and those who truly understand the power of Universal Love,– that is the truth!  Give yourself permission to take some time and journal- spend time with yourself and dig in deep within your soul, your authentic self, to see why you need to be in this situation and what is your life lesson.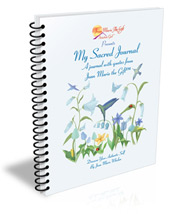 When I am in NYC I love to bring "My Sacred Journal" to Central Park and sit under my favorite set of trees as I explore deep within my soul what more there is for me to learn.
Pick up a copy of your  "My Sacred Journal" and see how you can go to a deeper level. It also contains numerous inspirational message scattered throughout the pages that will feed your heart and soul.
Until we speak again, I wish you many blessings,
Joan Marie the gift,
Intuition girl
Please continue to read my latest article here.
About the Author: Joan Marie Whelan, an internationally known intuitive specialist, business consultant, medium, and coach travels throughout the United States sharing her gifts and the Manifestation Method with solo-preneurs, professionals, small business owners, and large companies
MARK YOUR CALENDARS for September 14, 2009 for a rare, transformational opportunity to speak one-on-one with renowned Intuition Master, Joan Marie Whelan. Come share in the excitement of Joan Marie's FREE abundance discovery teleclass, which promises to give you a taste of what is to come in her upcoming Strategy Action Recovery Program – designed only for those of you who truly want to become leaders in the art of manifesting wealth, health, and prosperity in every aspect of life.
4 Responses to "Do you have a journal to write in?"
Leave a Reply