Posted by Intuition Girl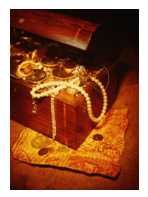 Some of you may have let an opportunity slip through your fingertips, or perhaps you missed a chance at landing that big job because you did not act quickly enough. Maybe a relationship did not work out and you are still beating yourself up for it. But what if some of these events were simply meant to be? I want to remind you that all that glitters is not always gold. Initially when things appear to not go your way, it does not always mean that you were intended to have it in the first place.
A wise person once told me, "Everything is as it should be." This is true in a lot of cases. In the Universal flow of energy, there are many gifts that are intended to be in your life. But there are subsequently, many things that are not. Sometimes no matter how much you may want a thing, the answer is simply, "no, not right now." It is not because you do not deserve it, but perhaps you are not quite prepared to receive it. Timing is everything in many instances.
So many of us in life have goals and dreams that we are hoping will come true but often don't because we are not open to examining new possibilities. We tend to keep our thought process and vision so narrow that we miss the real goal which is in the expansion of because it is only through our expansion that we are able to receive new possibilities. The best thing you can do is be open to hear and seek beyond what it is you want to what else might there be for you.
Remember sometimes your greatest gift is in not receiving what it is you thought you want but what the Universe is offering. We will always get what we need in life and what we need is very often far greater than anything we want.
2 Responses to "All that Glitters is not Gold"
Brook Stanbaugh Says:
April 19th, 2013 at 2:40 pm

Please let me know if you're looking for a author for your site. You have some really good posts and I think I would be a good asset. If you ever want to take some of the load off, I'd really like to write some articles for your blog in exchange for a link back to mine. Please blast me an email if interested. Cheers! Brook Stanbaugh

Angela Says:
May 23rd, 2013 at 6:01 pm

I always felt that but never heard anyone say it. Now i know in my heart it"s true.
Leave a Reply