Posted by Intuition Girl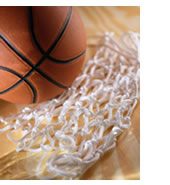 The ball is in your court. You have the opportunity to make a three-pointer from the goal line. At first there is a loud roar, and the other players are watching your every move. As your eyes focus on the net, the only thing stirring on your body is the bead of sweat rolling down your forehead. Just as quickly as the crowd roared, there is a sudden silence. Not even a hush can be heard around the court. The only thing between you and the net is your clear concentration to make the ball through the hoop. All your hard work and efforts have finally paid off. What you do with that ball at this moment is going to affect the outcome of the game…and maybe even your future as a professional ball player. Do you take the shot or do you walk away?
Nothing is impossible to those who believe. Do not refuse to move onward and upward to grab your greatness! Possibly you just say to yourself-I can't do it-it is too hard! Dreams can become reality for you when you choose to manifest the power of you inner abilities and your inner soul. When you seek the courage in your heart like so many have done before you, you pave the way to achieving that what you truly desire in life. Do not forget that you are already standing on the court. The ball is either within reach or maybe even in your hands.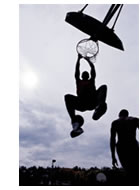 Whatever it is that you are choosing to pursue at this moment — a job, a new home, a relationship — is entirely within your own hands. You shape your reality…you choose your destiny. Are you going to take the shot? For what are you waiting? This moment will not last forever. At some point you must make that initial forward motion and keep the momentum going. Life waits for no one and the longer you stand in the same spot, the further you fall behind and the more you lose sight of your focus. I have said it before and I am saying it again, "keep it going. Keep it going." Set your sights and take the shot at the goal — if you believe, nothing is impossible.
© Slam Dunk!
September 2011
By Joan Marie the Gift, Intuition Girl
About the Author: Joan Marie is the extraordinary lifestyle expert for everyday living. She travels throughout the United States sharing her gifts and her Lifestyle Makeover Programs with solo-preneurs, professionals, small business owners, and large companies. Her Manifestation Method Program and Lifestyle Makeover Programs are designed to help people change their lives. For more information about Joan Marie and her upcoming, exclusive events, please go to: www.joanmariethegift.com
Learn more about Certified Master Intuitive Joan Marie Whelan –Intuitive Counseling and Intuition Coaching Specialist
Posted by Intuition Girl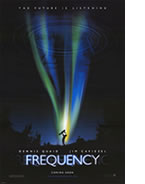 Let's think about that title for a minute: "Putting thoughts to birth." How do you put a thought to birth, you ask? Some of you may have watched the film, "Frequency" starring Dennis Quaid. In the film, the main character was somewhat able to travel through time via frequency radio. Each time he did, he was able to change the course of events by communicating future event information to his father. Essentially, he was able to plant the notion of what may come and in doing so, his father was successfully able to thwart negative events from occurring. Of course that was just a Sci-Fi flick, but in reality, if we plant the thought of what we want to see happen, we have the capability to make those things come into fruition. In that same instance, we have the capacity to transform the outcomes that we want to achieve in our not-so-distant futures.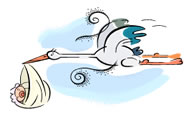 How do we put thoughts to birth? Turning water into wine may take an act of God, but making lemonade out of lemons only takes a little effort if we give it a try. When was the last time you really wanted something so badly that you were willing to do just about anything to get it? I know a lot of you might say that you have, but how many of you have actually acquired that "thing" or that goal that you wanted? If you put your thought to birth, then you successfully planted the seeds of action to manifest your heart's desires. You must birth your idea to give it the freedom to spread its wings and fly. If you have bottled it up in your mind and allowed it to stay hidden, then it is just that: an idea that has nowhere to grow. It is an unborn thought. What is it that you truly want to change in your life?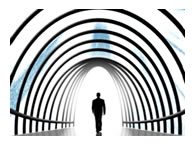 A client once asked me, "Joan Marie, you make change happen so effortlessly. What is your secret?" My secret is no secret at all. Change is never easy. In fact, it is one of the most difficult tasks to man. Even if we look at the literal and figurative birth of a thought in relation to an infant, it is a major transition. We go from the comfort of a safe and comfortable space, knowing our surroundings, understanding that we are being cared for, to rapidly having to move forward into an unknown territory. Suddenly, we are having to deal with a whole new set of responsibilities and circumstances. The comfort, however, is knowing that this new territory is a better place – a larger place where we can expand and grow in so many new ways. Life opportunities are unlimited when we are no longer afraid to put our thoughts to birth and go with the flow of change. That is the real secret.
I believe, as should you all, that when you put your thoughts and words to action, dreams can and will become reality. It is never a matter of whether you can or cannot; more so, a matter of whether you truly want to or not.
© Copyright – All Rights Reserved
Putting Thoughts to Birth
By Joan Marie the Gift, Intuition Girl
About the Author: Joan Marie is the extraordinary lifestyle expert for everyday living. She travels throughout the United States sharing her gifts and her Lifestyle Makeover Programs with solo-preneurs, professionals, small business owners, and large companies. Her Manifestation Method Program and Lifestyle Makeover Programs are designed to help people change their lives. For more information about Joan Marie and her upcoming, exclusive events, please go to: www.joanmariethegift.com
Learn more about Certified Master Intuitive Joan Marie Whelan –Intuitive Counseling and Intuition Coaching Specialist