Posted by Intuition Girl
Dear Joan Marie,
We spoke for a half hour back in February. I contacted you out of a certain desperation.  I hated my life, and hated my situation. You said you saw a relationship for me very soon, and in fact when the weather turned warm, saying spring or summer. It's freezing outside and I am still single and very lonely. I have been on some unremarkable dates with people who turned out to be dull and ultimately unbearable, so it's not like I'm not 'putting myself out there.' I am; there's just no one to put myself out there *for*. I have been laid off from two jobs and can't find another one. I apply and apply everyday and nothing. I can't pay my rent or bills.
My life is terrible and hurtful. It's gotten far worse. It's nothing but suffering, loss, agony, or at best, boredom and meaninglessness. I try really hard and think positive but nothing ever changes. 3 years ago my father died and the love of my life left me for someone else. I am almost 30 and feel like my dreams have passed me by. The point is, I am not 'being negative' and I am not 'holding myself back'. I am absolutely positive in every way I can be, I visualize, meditate, imagine, journal, read self help books, and do EVERYTHING I'm supposed to, but there are no opportunities and no men. I wonder if you can tell me something, ANYTHING positive will happen soon. I don't need to be told to think positively or to look at things in a different way. I already know all that.
I need assurance that something good will happen to me soon-and not some cheesy self-help thing like I'll think positive. I already know all that. I already do all that. I already love myself and am working on my goals. But that's only the first half. Thesecond half is to have something and someone on the other side. I mean an external event that occurs and gives me money or love (another person, not just self love) please advise.
Thanks.
Marie Krueger
ANSWER

Posted by Intuition Girl
Dear Ms. Whelan,
I am a 47 year old male, born in Elkton,Maryland and now live in Wilmington, Delaware. I had a failed family business in 2007, and lost my relationship (I am gay). He told me it was him and not me.
With all this in my life, it was more than I wanted to deal with, so I came very close to ending my life. Looking for some bright star, and having no faith in God, I decided to go see a card reader.
She was dead on with everything about my life, but told me that my partner left because I had a negative energy around me. She told me he was still very much in love with me and wanted to be with me and that he was coming back, and we would be together for life.
Also, money issues have been very hard, and the reader told me that I would not have anymore money issues, that I had a very big check coming in from some where, but the negative energy was stopping it. I since have turned to God and asked him to save me and help with my Life, I have been giving my life to God and God has done some great things in my life.
The reader called me, and told me I need to stay strong and positive, and I do. I have been giving her a large sum of money that I don't have, but she asks me if I trust her and I do.
Can you tell me if what I have told you is true or not and should I stay with her and trust her? Thank you for your time.
Kiamensi
ANSWER
Posted by Intuition Girl
What's character building all about? Ever heard someone say, "I earned my degree at the School of Hard Knox."? As a parody of higher education with respect to life, many have achieved inner wisdom and greatness by overcoming the perils of life through sheer willpower and determination to succeed.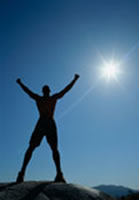 Whether we believe it or not, we grow stronger through adversity. Instead of beating ourselves up over perceived difficulties, we need to find resolve and learn to use "adversity" to our own advantage. More often than not, we encounter hurdles to reflect on what it is we are doing in life, where we're going, and what we need to be doing. Sometimes, we keep running into the same encounters because we have not yet comprehended the message we were supposed to learn the first time. That's not necessarily negative; though we may perceive it to be.
It is important to note, too, that while we may face adversity on many levels and at different stages in our lives, we should never be partner to creating our own drama. We must rise above the adversity that comes into our lives, and take a responsible view of what that event or person(s) is trying to convey to us. Read the rest of this entry »